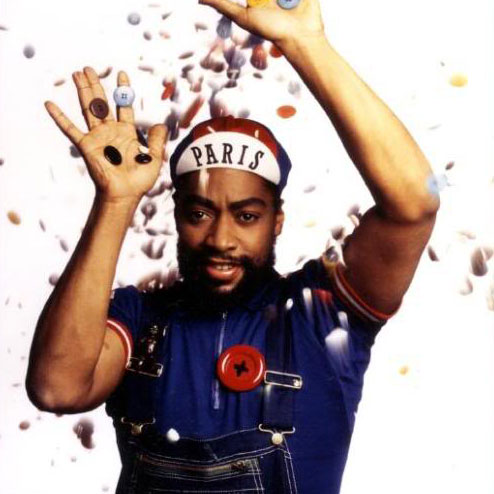 Patrick Kelly
Patrick Kelly was born on September 24, 1954 (to January 1, 1990). He was a celebrated fashion designer, style consultant, and influential trendsetter.
Patrick Kelly was born in Vicksburg, Mississippi, to a working class African American family. His mother held a master's degree, and worked as a home economics teacher. His father was a fishmonger, insurance agent, and cab driver. Kelly's father left home, and he was raised primarily by his mother and grandmother, who worked as a cook for an upper class white family. Kelly's keen interest in fashion showed even as a child. One day his grandmother brought home a fashion magazine, and Kelly noticed that there were not pictures of African American women in it. His grandmother explained that designers did not have time for Black women, and Kelly was determined to change this.
Patrick Kelly taught himself to sew, and began his career as a designer at an early age.  While still in junior high school, he began to design and sew party dresses for girls in the neighborhood. Later in high school, he began designing department store windows, and drawing sketches for newspaper advertisements. After Kelly graduated in 1972, he attended Jackson State University on a scholarship, and studied art history and African American history. He only stayed at Jackson State for two years, when he decided to leave Mississippi to escape the oppressive racial tensions, and to pursue a serious career in fashion.
Kelly moved to Atlanta and got a job sorting donated clothing for AMVETS, an American veterans organization, and volunteered to decorate windows for an Yves Saint Laurent boutique, Rive Gauche. These humble beginnings helped Kelly build his fashion career. From the job at AMVETS, he had access to a large selection of other designers' clothing, which he reworked and sold on the streets along with his original creations. Soon he began to collect a regular salary at the boutique, and this job also gave him some exposure in the fashion industry. Kelly set up his own vintage clothing store in Atlanta, and worked as an instructor at the Barbizon Modeling School, where he became friends with several fashion models. Imam first walked an American runway in a Patrick Kelly design, in Atlanta in 1976. Another top model, Pat Cleveland, convinced him that he should move to New York City if he wanted to really get noticed by the fashion industry.
Patrick Kelly followed his friend's advice, moved to New York, and enrolled in the New School's Parsons School of Design. He struggled financially but supported himself with sporadic work, including a part-time job working at Baskin Robbins. Kelly earned money by selling his own dresses to models. Then Pat Cleveland suggested that he move again, this time to Paris. Kelly laughed at the idea because he knew he could not afford the trip. However, when a one-way ticket to Paris was mailed to him anonymously in 1979, he seized the opportunity and moved to the fashion capital of the world.
Kelly was quickly hired as a costume designer for a nightclub called Le Palace. He continued to sell his own creations on the street, and even sold homemade fried chicken dinners right there on the sidewalk to make ends meet. Kelly shared a tiny apartment with a model, and made dresses with a Singer sewing machine. His hard work and perseverance paid off, when people began to recognize his designs, and demand increased. In 1984, an exclusive Paris boutique, Victoire, hired Kelly and gave him a workshop and showroom. A year later, he went into business with his friend, photographer Bjorn Amelan, to create Patrick Kelly Paris. Soon, they were making outfits for Benetton and an upscale Right Bank boutique.
Patrick Kelly quickly established his reputation as a designer, and his business blossomed. In 1987, he was interviewed by Gloria Steinem for NBC's "Today Show." Steinem introduced him to Linda Wachner, the chief executive officer of apparel manufacturer Warnaco. Kelly signed a $5 million contract to create a line of clothing for Warnaco, which gave him international recognition. He also signed licensing deals with Vogue Patterns and Streamline Industries for his famous big buttons. Kelly's business revenue increased from less than a million dollars a year to more than seven million dollars annually.
Kelly's popularity stemmed from his fun, colorful, and exotic style. Large, colorful buttons became a trademark, but he also decorated dresses with colorful bows, embroidered lips and hearts, and even billiard balls. He became known for designs that were fun, unpretentious, sexy, and reasonably priced. In a 1986 "Time" magazine article, Kelly declared, "I'm the hero of people who just don't want to spend a lot of money on clothes."
Kelly's designs also carried a distinctive Southern flavor. He proudly incorporated Southern iconography in his work, including watermelon brooches, dresses decorated with gardenias, and polka-dotted bandannas. He generated controversy when he created a lapel pin featuring Black babydoll faces that some found offensive. He told "Essence" magazine, "Recently somebody Black told me they were harassed about wearing the Black babydoll pin. And I thought, you can wear a machine gun or a camouflage war outfit and people think it's so chic, but you put a little Black baby pin on and people attack you." The pins became his trademark, and he gave them away to everyone he met.
Patrick Kelly's designs never had a chance to become a household name, but his clientele included many famous people, such as Bette Davis, Grace Jones, Jessye Norman, Isabella Rossellini, and Jane Seymour. In 1988, he was the first American invited to join Chambre Syndicale, an elite organization of designers based in Paris. One privilege of being a member of the group was the opportunity to have a show at the Louvre Palace. True to Kelly's fun style, his first show was a spoof on the Mona Lisa, featuring models carrying oversized gold frames in front of their faces.
Unfortunately, his career ended soon after he became famous; Patrick Kelly died on January 1, 1990. The official cause of death was listed as bone marrow disease, but it was revealed later that he, like so many others in the fashion design industry, had succumbed to complications from AIDS. Kelly's sudden death left a lot of unfinished business. He was negotiating licenses for his designs for furs, sunglasses, and jewelry. He was also looking for a museum to house his large, unique Black doll collection. There was even talk of making an autobiographical movie.
Despite his untimely death, Patrick Kelly left his mark on the fashion world. He inspired a new generation of designers, and brought humor and excitement to a sometimes stuffy industry. Those who knew and worked closely with Kelly say that, in addition to being brilliant and hardworking, he was one of the funniest people they had ever known.
Kelly's designs were put on display at the Black Fashion Museum in Washington, D.C., the Los Angeles County Museum of Art, the Philadelphia Museum of Art, and at Jackson State University in Mississippi. In 2016, the university presented "Patrick Kelly: From Mississippi to New York to Paris and Back," featuring two dozen of his designs. The exhibition traveled to Kelly's hometown of Vicksburg the following year.
We remember Patrick Kelly in appreciation of his brilliant impact on the world of fashion and design, his celebration of a uniquely African American style, and his many contributions to our community.