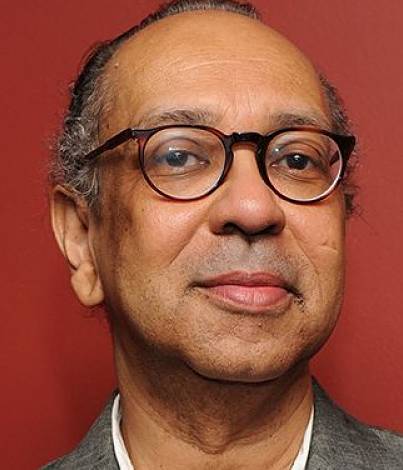 George C. Wolfe
George C. Wolfe was born on September 23, 1954. He is a highly celebrated American playwright, director of theater and film, and one-time actor who has earned five Tony Awards and countless other honors for his extraordinary work. In 2013, Wolfe was inducted into the American Theater Hall of Fame.
George Costello Wolfe was born in segregated Frankfort, Kentucky, the son of Anna Lindsey-Wolfe, an educator, and Costello Wolfe, a government clerk. He attended an all-Black private school, where his mother taught and later was principal. After a family move, he began attending the newly integrated Frankfort public school district. Wolfe recalls a "defining event" when, at age seven, he could not get into Frankfort's Capitol Theater to see the animated Disney film, "101 Dalmations," because he was Black.
Wolfe pursued his interest in the theatre arts, and wrote poetry and prose while he was a student at Frankfort High School. Following high school, he enrolled at historically Black Kentucky State University, the alma mater of his parents. Following his first year, Wolfe transferred to Pomona College in Claremont, California, where he pursued his Bachelor of Arts degree in theater. He earned his Masters of Fine Arts degree in dramatic writing and musical theater at New York University in 1983.
In 1975, Wolfe's play, "Up for Grabs," was performed at Pomona College, and was chosen as the Pacific Southern Regional winner at the American College Theater Festival (ACTF). The following year, the college staged his "Block Party," which earned Wolfe a second ACTF award.
Wolfe taught for several years at the Inner City Cultural Center in Los Angeles. In 1977, Wolfe gave C. Bernard Jackson, the executive director of the Center, the first scene of a play he was working on. Rather than suggest that he finish writing it, Jackson gave him money to do it. The name of the play was "Tribal Rites, or The Coming of the Great God-bird Nabuku to the Age of Horace Lee Lizer."
Wolfe gained a national reputation as a gifted new voice in the American Theatre for the musical "Paradise" in 1985. A year later, he directed the satirical play, "Colored Museum," to mixed reviews. Some African American audiences viewed the play as anti-Black. It was a success with the critics, however, and Wolfe won the Dramatists Guild's Elizabeth Hull-Kate Warriner Award for the best play dealing with a controversial social, political, or religious topic. In 1989, Wolfe won over his critics, and received an Obie Award for Best Off-Broadway Director for his play "Spunk," an adaptation of three stories by Zora Neale Hurston.
In 1991, Wolfe's star continued to rise with "Jelly's Last Jam," a musical about the life of jazz musician Jelly Roll Morton. After a Los Angeles opening, the play moved to Broadway, where it received 11 Tony nominations and won the Drama Desk Award for Outstanding Book of a Musical. Two years later, Wolfe directed Tony Kushner's "Angels in America: Millennium Approaches" to great critical acclaim, as well as a Tony award. Wolfe also directed the world premiere of the second part of "Angels," entitled "Perestroika," the following year. Wolfe won the Tony, Drama Desk and Outer Critics Circle Award for "Angels in America."
In the late 1990s, Wolfe faced a serious health problem caused by kidney failure. After a year on dialysis, he had an organ transplant, donated by his older brother, William Wolfe.  With characteristic energy, Wolfe kept working throughout the health crisis, citing the ethic instilled in him by his family to "keep delivering."
From 1993 to 2004, Wolfe served as artistic director and producer of the Joseph Papp Public Theatre/New York Shakespeare Festival. In 1996, he created the smash hit, "Bring in 'Da Noise, Bring in 'Da Funk," a musical revue telling the story, through tap, of Black history from slavery to the present. It made a star of Savion Glover, and the show moved to Broadway's Ambassador Theatre in 1996. Wolfe's work won a second Tony Award for direction, and was an enormous financial success.
George C. Wolfe went on to produce other Broadway hits, including "Elaine Stritch at Liberty," "The Tempes," and Suzan Lori Parks' Pulitzer Prize-winning play, "Topdog/Underdog." In 2000, he co-wrote the book and directed the Broadway production for "The Wild Party."  He followed that with "On the Town" and "Caroline or Change," which he also directed at the National Theatre in London, where it received the Olivier and Evening Standard Awards for Best Musical.
In late 2004, Wolfe moved into film direction, beginning with the well-received HBO film "Lackawanna Blues" by Ruben Santiago-Hudson. "Lackawanna Blues" earned Wolfe the Directors Guild Award for Best Directorial Achievement, a National Board of Review Award, an Independent Spirit Award nomination for Best First Feature, a Christopher Award, and the Humanitas Prize. It also won four NAACP Image Awards, earned seven Emmy Award nominations, and premiered at the Sundance Film Festival. His film "Nights in Rodanthe" opened in September of 2008.
In the summer of 2006, George C. Wolfe directed a new translation of Bertolt Brecht's "Mother Courage and Her Children" at the Delacorte Theatre in Central Park. It starred Meryl Streep, Kevin Kline, and Austin Pendleton.
More recent Broadway productions include "A Free Man of Color" (2010), a revival of Larry Kramer's "The Normal Heart" (2011), "Lucky Guy" (2013), and "Shuffle Along, or, The Making of the Musical Sensation of 1921 and All That Followed" (2016).
In August 2017, Wolfe was one of 17 citizen members of the President's Committee on the Arts and Humanities to resign in protest of President Trump's remarks on the Unite the Right rally incident in Charlottesville, Virginia.
Wolfe will direct a Broadway revival of Eugene O'Neill's "The Iceman Cometh" in 2018, with Denzel Washington starring.
Openly and unapologetically Black and gay, Wolfe has made his mark bringing unconventional works to life, and using his unique perspective to give a new twist to old classics. Of Wolfe, bell hooks wrote, "(he) brings to his work in the theater a new vision. On all levels he seeks to disrupt the conventional patterns of domination, and the race, class, sex hierarchies that have been enshrined in American theater. George Wolfe epitomizes the engaged artist and critical thinker who dares to unite theory and practice."
We thank George C. Wolfe for his abiding commitment to bringing cultural diversity to the stage and its audiences, and for his unwavering support of our community.