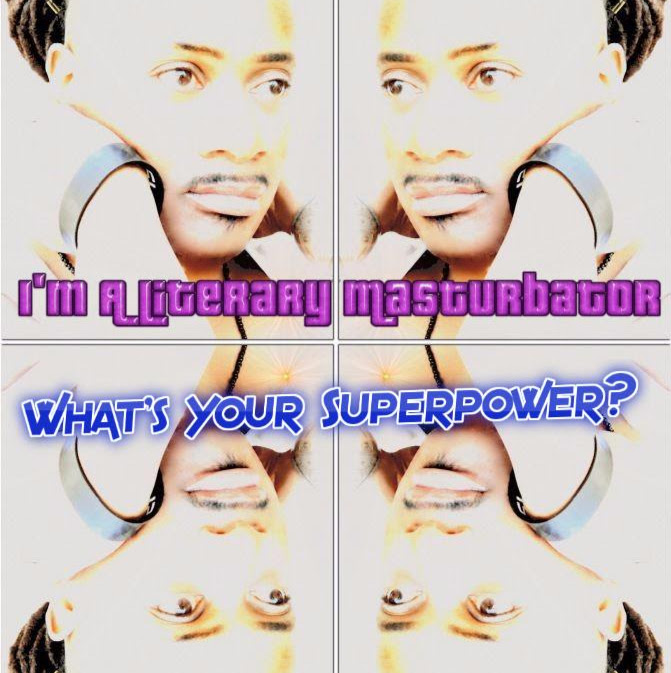 Jair Trice
Jair Trice was born on September 26. He is a writer, poet, essayist, spoken word artist, vocalist, arts curator, and activist popularly known as "The Literary Masturbator."
Trice was born Thomas Nathaniel Trice in Los Angeles, California, to Flora and John Trice. He is the youngest of ten children. His parents divorced, and his mother married Rev. Arthur Fudge.
Trice began his primary education in Los Angeles, until his family moved to Inglewood, California, where he completed Clyde Woodworth Elementary School, Albert Monroe Junior High School, and Morningside High School. As a student, he participated in student government, the yearbook staff, several clubs and organizations, as well as church and community choirs.
After college and a failed marriage attempt, Trice began to use music and the arts to heal himself. Writing in his journal and embarking on spiritual exploration became important themes in his life. Coming from a long line of Baptist church ministers, deacons, leaders, and congregants, Trice began to feel the need to have a deeper understanding of what God and the Universe meant to his personal journey. A combination of being truthful about his sexuality as well as a strong desire to move past traditional church teachings lead him to explore African spirituality, Sufism, Mysticism, New Age teachings, and many other faith paths and traditions. These themes began to show up in Trice's writing, and were the impetus for changing his name to Jair, which translates to "God reveals, God clarifies."
Trice also joined and became active at Unity Fellowship Church, Los Angeles, where he was able to explore Liberation Theology from the teachings of Archbishop Carl Bean, Reverend Alfreda Lanoix, and many others. He participated in the music ministry, Street Life Homeless Outreach Ministry, MAP (Minority AIDS Project), as well as founded and coordinated the Lord-Baldwin Learning Tree, a literacy program to help adults increase their reading comprehension. Trice also became active with the Brothers Helping Brothers discussion group, and got involved with other programs in Los Angeles at In The Meantime Men organization.
Breaking through spiritually gave Trice the courage to share his work. He has written book, music, and entertainment reviews for several magazines, including "Sequoia," "DownSideUp," "Message In The Meantime," "GentleChaos," "Truth," GBM News, and poeticsfamilia.com. He also began to read publicly at open mics, and became a regular performer at Poets Jazz House in Los Angeles. It was at Poets Jazz House that Trice experienced being on stage and wrote his signature piece, "Literary Masturbator."
Trice has appeared at and/or coordinated events for ION-TV Presents, Sonny's Spot, 5th Street Dick's, Myne Mic Radio Show, Abbot's Habit, Soulful Salon, ThirdThursdayLA, National Queer Arts Festival, Q-Ball, African Marketplace, Pan-African Film Festival, Carlotta's Fine Art, San Francisco Public Library, Feel Mighty Real, Good Gumbo Radio, West Hollywood Book Fair, African Marketplace, Fusion: People of Color LGBT Film Festival, Los Angeles Black Book Expo, B/Glam: A Family Reunion Read, Black Writers West, Saturday Night Special, Black & Tan Festival, Listen & Be Heard, Lyrical Laundry, Pass The Mic, Everyday People, REVOLVE Creative Arts & Film Festival, Poets For Ferguson, Beast Crawl, East Bay ZineFest, OUTVoices, and In The Life @30, among others.
Trice finds strength and inspiration from others in the community through their work and some of the friendships he's been able to make and maintain. It was through the writings of people like Essex Hemphill, Joseph Beam, James Earl Hardy, E. Lynn Harris, Audre Lorde, James Baldwin, and the work of Marlon T. Riggs that he was able to catch glimpses of himself and who he wanted to be. To have the opportunity to connect and be inspired by colleagues has always been important to him.
Trice's writing is included in the anthologies, "Mighty Real: An Anthology of African-American Same Gender Loving Writing," "Tapestries of Faith: Black SGLBT Stories of Triumph, Family, Love, & Healing," and "Black Gay Genius: Answering Joseph Beam's Call." He's also lectured about poetry and spoken word at Mount Saint Mary's College at the invitation of mentor and friend Frankie Lennon, and counts among one of his most rewarding performances the sharing of poetry with women who were overcoming cancer treatment.
Trice is the author of "Touch: Poems and Other Writings of Love, Erotica, and Sensuality," available at Amazon, Barnes & Noble, as well as other online booksellers. He is also experimenting with the idea of "VideoPoetry," and you can see some of his work on his YouTube and Vimeo channels.
Trice currently lives in Oakland, California. He is a Libra and Lakers' fan, and counts among his greatest achievements being a former Staring Contest Champion of Mrs. Worthington's fourth period English class at Albert Monroe Jr. High in Inglewood, California.
You can connect with Trice on Instagram (@jair_theliterarymasturbator), Twitter (@litmasturbator), or at theliterarymasturbator@gmail.com.
We thank Jair Trice for his contributions to writing, poetry, and spoken word, and for his unwavering activism and support of our community.