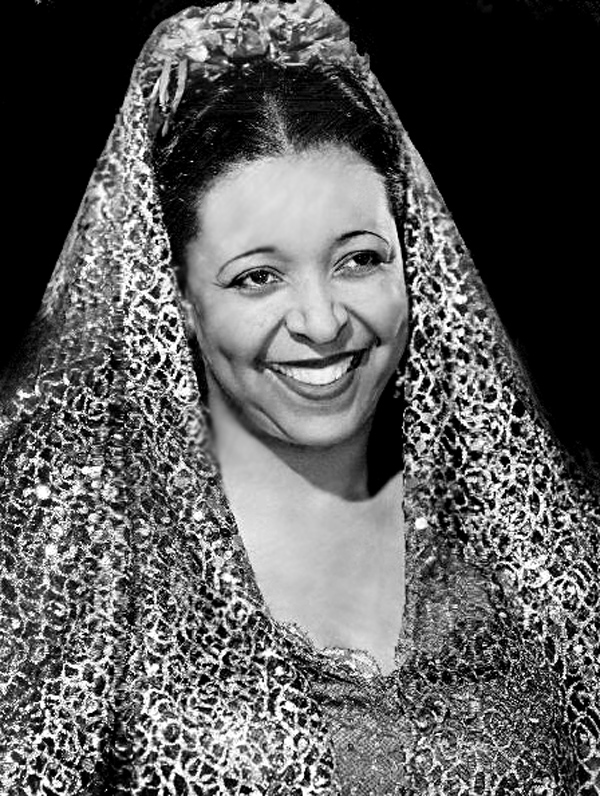 Ethel Waters
Ethel Waters was born on October 31, 1896 (to September 1, 1977). She was an American blues, jazz, and gospel vocalist. As an actress, Waters was the second African American to be nominated for an Academy Award, and the first Black woman to be nominated for an Emmy Award.
Ethel Waters was born in Chester, Pennsylvania, a result of the rape of her mother, Louise Anderson, at age 13 by John Waters, a pianist and family acquaintance from a mixed-race middle class background who played no significant role in her life. She wrote about being raised in a violent and impoverished home in Philadelphia and neighboring cities, seldom living anywhere for more than a few weeks at a time. "No one raised me," Waters recalled, "I just ran wild." She excelled not only at looking after herself, but at singing and dancing. Waters began performing at church functions, and as a teenager, was locally renowned for her "hip shimmy shake."
Waters married at the age of 13, but soon left her abusive husband and became a maid in a Philadelphia hotel working for $4.75 per week. On Halloween night in 1913, her seventeenth birthday, she attended a costume party at a nightclub on Juniper Street, and was persuaded to sing two songs. Waters impressed the audience so much that she was offered professional work at the Lincoln Theatre in Baltimore, Maryland.
With great determination, Waters made her debut on the Black vaudeville circuit in 1917, billed as Sweet Mama Stringbean for her tall, lithe build. She broke through with her rendition of "St. Louis Blues," which Waters performed in a softer and subtler style than her musical rivals, Ma Rainey and Bessie Smith.
Ethel Waters moved to New York City to join the dynamic explosion of African American creativity that was the Harlem Renaissance. Beginning with her appearances in Harlem nightclubs in the late 1920s, she became one of America's most celebrated and highest paid entertainers. Her first Harlem appearance was at Edmond's Cellar, a club that had a Black patronage, and was the source of her early fan base. At the Cotton Club, Waters introduced "Stormy Weather," composed for her by Harold Arlen. Her appearances at Harlem's Plantation Club, led her to Broadway.
Waters would later write, "I was singing the story of my misery and confusion, the story of the wrongs and outrages done to me by people I had loved and trusted." Impressed by her performance, Irving Berlin wrote "Supper Time." a song about a lynching, for Waters to perform in a Broadway revue. Between club appearances, Waters traveled a nightclub circuit from Chicago to St. Louis and throughout the South. In 1927, she appeared in an all-Black revue, "Africana." Thereafter, she divided her time between the stage, nightclubs, and eventually movies.
Marked by a vitality that gloried not only in Black artistic achievement but also in Black identity, the Harlem Renaissance celebrated sexuality with a remarkable lack of judgmental criticism. Like most blues singers of the time, Waters sang her share of raunchy, openly suggestive songs such as "Organ Grinder Blues" and "Do What You Did Last Night." And, like many other women blues singers of the day, such as Bessie Smith, Ma Rainey, and Alberta Hunter, Waters was known to have sexual relationships with other women. Although she was not as open as Rainey about her same-sex relationships, Waters had at least one quite public affair with a dancer named Ethel Williams, with whom she flirted from the stage, and had notorious lover's spats. She is also rumored to have had a brief liaison with British novelist Radclyffe Hall, whom she mentions in her autobiography.
Some of Waters' performances from the mid-1920s foreshadow the scat singing later popularized by Louis Armstrong and Ella Fitzgerald. Among the jazz instrumentalists who accompanied her in the earliest recording sessions were Fletcher Henderson, Joe Smith, Coleman Hawkins, James P. Johnson, Clarence Williams, Duke Ellington, and Benny Carter.
Waters first recorded for Columbia Records in 1925, for which she was later bestowed a Grammy Hall of Fame Award in 1998. While at Columbia, she introduced many popular standards, including "Dinah," "Heebie Jeebies," "Sweet Georgia Brown," "Someday, Sweetheart," "Am I Blue?" and "(What Did I Do To Be So) Black and Blue."
In the 1930s, Waters was able to remake herself as an actress. She first appeared in several Broadway revues, and then gradually garnered non-singing dramatic roles on both stage and screen. Her acting career would eventually eclipse her accomplishments as a singer in the public eye. In 1933, Waters made a satirical all-Black film, "Rufus Jones for President," and took a role in the Broadway musical revue, "As Thousands Cheer," where she was the first Black woman in an otherwise white show. Waters had three gigs at this point; in addition to the show, she starred in a national radio program, and continued to work in nightclubs.
Waters became the highest paid performer on Broadway, but she was starting to age. MGM hired Lena Horne as the ingénue in the all-Black musical, "Cabin in the Sky," and Waters starred as "Petunia" in 1942, reprising her stage role of 1940. The film, directed by Vincente Minnelli, was a success, but Waters was offended by the adulation accorded Horne, and feeling her age, went into somewhat of a decline.
Waters began to work with Fletcher Henderson again in the late 1940s. She was nominated for a Best Supporting Actress Academy Award in 1949 for the film "Pinky." In 1950, she won the New York Drama Critics Award for her performance opposite Julie Harris in the play, "The Member of the Wedding," with both Waters and Harris repeated their roles in the 1952 film version. In 1950, Waters starred in the television series "Beulah," but quit after complaining that the scripts' portrayal of African Americans was "degrading."
Despite these successes, Waters' brilliant career was fading. She lost tens of thousands in jewelry and cash in a robbery, and the IRS hounded her. Her health suffered, and she worked only sporadically in following years. From 1950 to 1951, she wrote the autobiography, "His Eye is on the Sparrow," with Charles Samuels. In it, Waters stated that she was born in 1900. In her second autobiography, "To Me, It's Wonderful," she contended that she was born in 1896.
During her later years, Waters considerably toned down her "red hot mama" image and redefined herself as an evangelical Christian. In the period before her death, she toured with the Reverend Billy Graham Crusades, despite the fact that she had once been a Catholic and he was a Protestant. Waters died on September 1, 1977 from heart disease at the Chatsworth, California, home of a young couple who cared for her. She was 80 years old.
Waters was approved for a star on the Hollywood Walk of Fame in 2004, however the actual star has not been paid for or installed, despite fundraising efforts. In 2017, Florida playwright Larry Parr's biographical one-woman musical, "Ethel Waters: His Eye Is on the Sparrow," hit the stage.
We remember Ethel Waters and thank her for her many contributions to America's cultural and artistic landscape, and to our community.