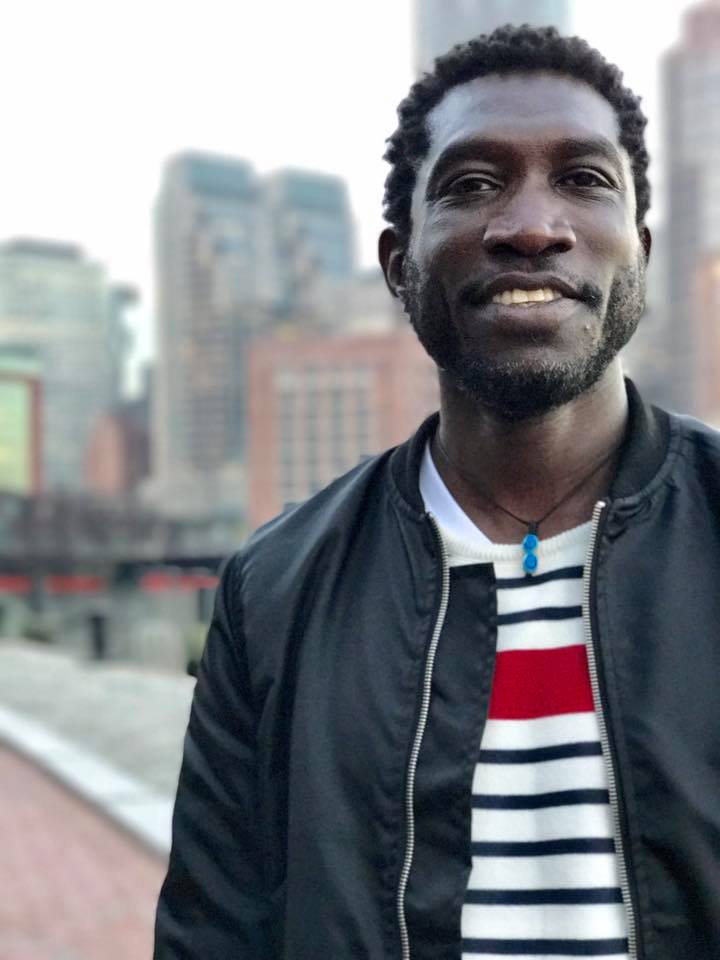 John "Longjones" Abdallah Wambere
John "Longjones" Abdallah Wambere was born on November 2, 1972. He is an LGBTIQ activist, HIV/AIDS and social justice advocate, and public speaker who was granted asylum in the United States after fleeing violence and persecution in his home country.
Born as John Bosco Wambere into a Christian family in Mbale, Uganda, his father, James Makumba, was a businessman, and his mother, Petronila Amali Makumba, a midwife; he has seven siblings and three step-siblings. Wambere was a Boy Scout, and enjoyed volleyball and drama during his education in the public school system. He graduated from Masaba Secondary (High) School in Budadiri, Uganda, and changed his name to Abdallah Wambere when he was 19 years old. Wambere received a certificate in education from St John Bosco Primary Teacher's College in Nyondo, Uganda, and earned a diploma in tour and travel operations from the International Institute of Management and Shipping Studies in Nairobi, Kenya.
Even as a young boy, Wambere felt different inside. "I knew myself at an early age because…I could see…how my body spoke to me when I saw another man. It was different when how my body spoke to me when I saw a woman," he recalled in a 2014 interview with "Legal Lines" host Timothy Lynch. As he got older, Wambere continued to present as straight, but it grew increasingly difficult. "It was really hard for me," he revealed in "Pride & Joy: LGBTQ Artists, Icons and Everyday Heroes" by Kathleen Archambeau. "I locked myself in my room and cried and cried and cried. I asked God to make me just like everybody else. To make me straight. To make me attracted to women."
Although he remembered growing up in a time and place where gay people were talked about openly and not condemned as they are in Uganda now, Wambere told the Ubuntu Biography Project that "as a young man it was mentally disturbing and a struggle trying to find people who identified like you and the fear of what the outcome would be should they know about your sexuality. Name calling by other peers, discrimination, and homophobia from their parents was tough to deal with."
At age 26, Wambere became a parent. "I struggled with my sexuality for some time. I'm a proud father of a daughter, and I thought that by having a child I would get all of that struggle off my back. But it never ended there, I was just lying to myself," he stated in a 2017 interview with "The Huffington Post."
Wambere soon decided he had to begin living his truth. "I remember it was in the earlier part of 1998 when I finally realized that I simply needed to accept my sexuality for what it was and stop fearing disclosure at least among those I felt I could trust…I washed my hands one day and looked at myself in the mirror. I realized that being gay made me happy because it is who I am," Wambere wrote in his April, 2014 application for asylum in the United States.
Wambere began studying in Nairobi, Kenya, and was meeting other gay men and developing his own community of friends in the city. Eager to seek that kind of support in Kampala, Uganda, he began to frequent spots in Kampala where members of the LGBTIQ community were known to frequent. A man who approached Wambere and asked him if he were gay turned out to be one of the founding members of a grassroots group, Homo Uganda. With that, Wambere joined the organization, and was introduced to the world of advocacy.
Through Homo Uganda's name change to Spectrum Uganda Initiatives (Spectrum) in 2002, Wambere continued to serve the organization by disseminating information on emergency security for LGBTIQ Ugandans detained by law enforcement, educating the community about its vulnerability to HIV/AIDS, and hosting Sunday gatherings at his home to discuss issues of sexuality and health, and to provide a place to socialize with other members of the community. In 2004, Wambere was elected secretary of Spectrum.
The following year, Wambere's life was forever changed when "The Red Pepper," a tabloid in Uganda, outed him by publishing his name, line of work, and home and work addresses. What followed was a series of events that eventually forced Wambere to leave the country he called home. He faced harassment and death threats, lost his travel and tourism business, and was repeatedly evicted or forced to move.
In 2009, Wambere was attacked by several men as he left the Capital Pub in Kampala, including one assailant who said, "Look at this homosexual selling himself." Wambere was knocked unconscious, and recalled waking up in a friend's car with a broken tooth. Fearful that contacting the police and going to the hospital would further jeopardize his safety, Wambere decided to treat the injuries himself.
Wambere was arrested several times under the country's Penal Code 145, which criminalizes homosexual sex and other acts considered against the order of nature. Wambere said he was taunted and threatened by officers, who forced him to undergo psychological examinations and pay them bribes before agreeing to let him go.
The dangers faced by Wambere and other LGBTIQ Ugandans were profiled in the 2010 Current TV "Vanguard" series, "Missionaries of Hate," and in the 2012 documentary, "Call Me Kuchu." "Kuchu" centered on activist David Kato, who was murdered a year before the documentary was released. Wambere received threats that he would be next. After learning of Wambere's advocacy, Boston-based disc jockey Nathanael Bluhm invited Wambere to the United States, and raised money for the airfare. Although Wambere accepted the offer under the premise of speaking at a few events and staying only a few weeks, Bluhm had a feeling that this was a rescue mission to get Wambere out of Uganda.
On February 20, 2014, Wambere left Uganda for the final time. After a brief visit to Brussels, he arrived in the United States at the end of March. Four days after boarding a plane in Uganda, the Ugandan president signed into law the notorious Anti-Homosexuality Act of 2014, which originally called for the death penalty for same-sex relations, but was amended to life in prison. With the law in place, Wambere knew a return to Uganda could mean continued harassment, violence, arrests—even death.
Wambere would spend the next several months rooming with Bluhm (the pair would trade off using the bed and a futon) and receiving generous donations of groceries from local church groups and organizations. Despite his relative safety, Wambere worried about the family and people he left behind in Uganda, and how he would be able to help them from nearly seven thousand miles away.
In April, Wambere was on hand at the 25th Annual GLAAD Media Awards in Los Angeles to accept the Outstanding Documentary trophy on behalf of "Call Me Kuchu" co-directors Katherine Fairfax Wright and Malika Zouhali-Worrall. That same month, Wambere filed for asylum with the assistance of GLBTQ Legal Advocates & Defenders (GLAD), citing his very public role as an activist, and the fact that Uganda's new law was so broad that even his work with Spectrum could be used to arrest and imprison him.
During the wait for a decision on his asylum request, Wambere was able to advocate from Boston to ensure that Spectrum received funding, and that that the LGBTIQ community in Uganda had access to health services and emergency support through a toll-free hotline he established with the help of donors in the United States. On September 16, 2014, Wambere announced that he had been granted asylum.
Since then, Wambere has continued to use his influence and safety in the United States to help the LGBTIQ community around the world. In 2016, he partnered with Coro Allegro to fundraise for LGBTIQ refugees in Kenya's Kakuma Refugee Camp, and worked with Christ Church Cambridge (Massachusetts) on the LGBTIQ Housing and Sustainability Project for refugees in Ngong, Nairobi, Kenya.
Wambere's full time job is advocating, empowering, and supporting families of victims and survivors of domestic violence. He told the Ubuntu Biography Project that the greatest part of his work is "seeing them heal, pick up again emotionally, and take on a new start in life."
Wambere, who is known affectionately as Longjones because of his height, makes his home in Woburn, Massachusetts, where he enjoys movies, traveling, shopping, and cooking. He is a majoring in sociology at Bunker Hill Community College in Greater Boston, and hopes to transfer to a four-year college to pursue a bachelor's degree. In addition to maintaining a relationship with a partner living in Uganda, Wambere reunited with his daughter when she came to the United States in 2017.
We thank John "Longjones" Abdallah Wambere for his advocacy and courageous fight for social justice, and for his support of our community.