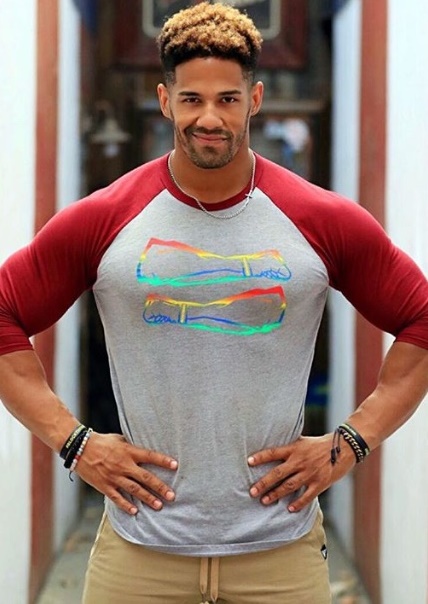 Darren Young (Fred Rosser)
Fred "Freddie" Rosser (known professionally as Darren Young) was born on November 2, 1983. He was the first professional wrestler to publicly come out as LGBTQ while signed to a major promotion.
Frederick Douglas Rosser III was born in Union Township, New Jersey, the only child of Frederick and Robin Rosser. Although he played football while a student at Union High School and for his first year at Farleigh Dickinson University, professional wrestling was Rosser's first love. "As a teenager, I did my research on many wrestling schools but they were too expensive," he recalled in 2008. "To make a long story short, my boss's uncle worked at a local gym that a current wrestler worked at. He trained at Camp IWF [Independent Wrestling Federation in West Paterson, New Jersey] and he hooked me up with that school and the rest was history."
Rosser made his professional debut in 2002, and spent the next several years wrestling for the IWF (winning his first major title in May of 2003), Chaotic Wrestling, the East Coast Wrestling Association, and the National Wrestling Alliance. After signing a development contract with Florida Championship Wrestling of the World Wrestling Entertainment (WWE), Rosser began a career with the WWE that would last for more than 12 years. Over that time, he went by several names, including Fred Sampson, Fred Rosser, and Darren Young. He was released by WWE in October, 2017.
In a video interview released by TMZ on August 15, 2013, a photographer asked Rosser at Los Angeles International Airport if a gay wrestler could be successful in the WWE. He candidly and matter-of-factly replied, "Absolutely. Look at me. Ya know. I'm a WWE superstar and to be honest with you, I'll tell you right now, I'm gay. And I'm happy. I'm very happy." Rosser became the first professional wrestler to publicly declare their sexuality while signed to a major promotion (others, such as Pat Patterson, Chris Kanyon, and Orlando Jordan, came out after leaving an organization or retiring). Rosser would later reveal that he had a partner, Niccolo 'Nicki' Villa, since 2011.
WWE released a statement in support of Rosser for being open about his sexuality, and Cher and other celebrities and fellow wrestlers congratulated him on social media. Rosser admitted to "Gay Star News" that he was a "nervous wreck" after making the public pronouncement, and was concerned about losing his family, friends, and his job. Several months earlier, pro basketball veteran Jason Collins became the first active NBA player to come out as gay, and Rosser said that helped motivate him to speak his truth.
Two days after his announcement, Rosser was in Los Angeles when he was approached by a fan who asked if he was Darren Young. "He told me he had seen the news about me and admired my courage. He said hearing my story helped him come out to his family. He was emotional and started crying. I knew what those tears were about. We connected and got a photo together. It's moments like this that make me realize I can help create a positive change in the world."
In 2015, Rosser was not invited to participate in the WWE's tour of Abu Dhabi, part of a region where same-sex relations are illegal. The organization said in a statement, "WWE cannot change cultures and laws around the world, and thus we did not send Fred Rosser to the United Arab Emirates for our upcoming events for his own protection." Rosser took to his personal Twitter account to declare, "My freedom of speech is gone. Gone but not forgotten. I feel like no none has my back and it upsets me. The struggle is real. I'm human."
Since his coming out, Rosser has worked with several LGBTQ organizations, including GLAAD, NOH8, Athlete Ally, and the Pride parades in New York City and Los Angeles.
In an interview on AfterBuzz TV's "X-Pac 12360" in 2017, Rosser revealed for the first time that his mother identifies as LGBTQ. He also discussed being aware of his sexuality from his earliest memories. "I always knew, I just suppressed my feelings. Just fear of judgment, you know, fear of losing friends so…for thirty years, I just lived my life not being myself."
Rosser makes his home in Florida, and speaks out against bullying and hate as part of the #BlocktheHate campaign.
We thank Fred Rosser for his trailblazing advocacy and support of our community.