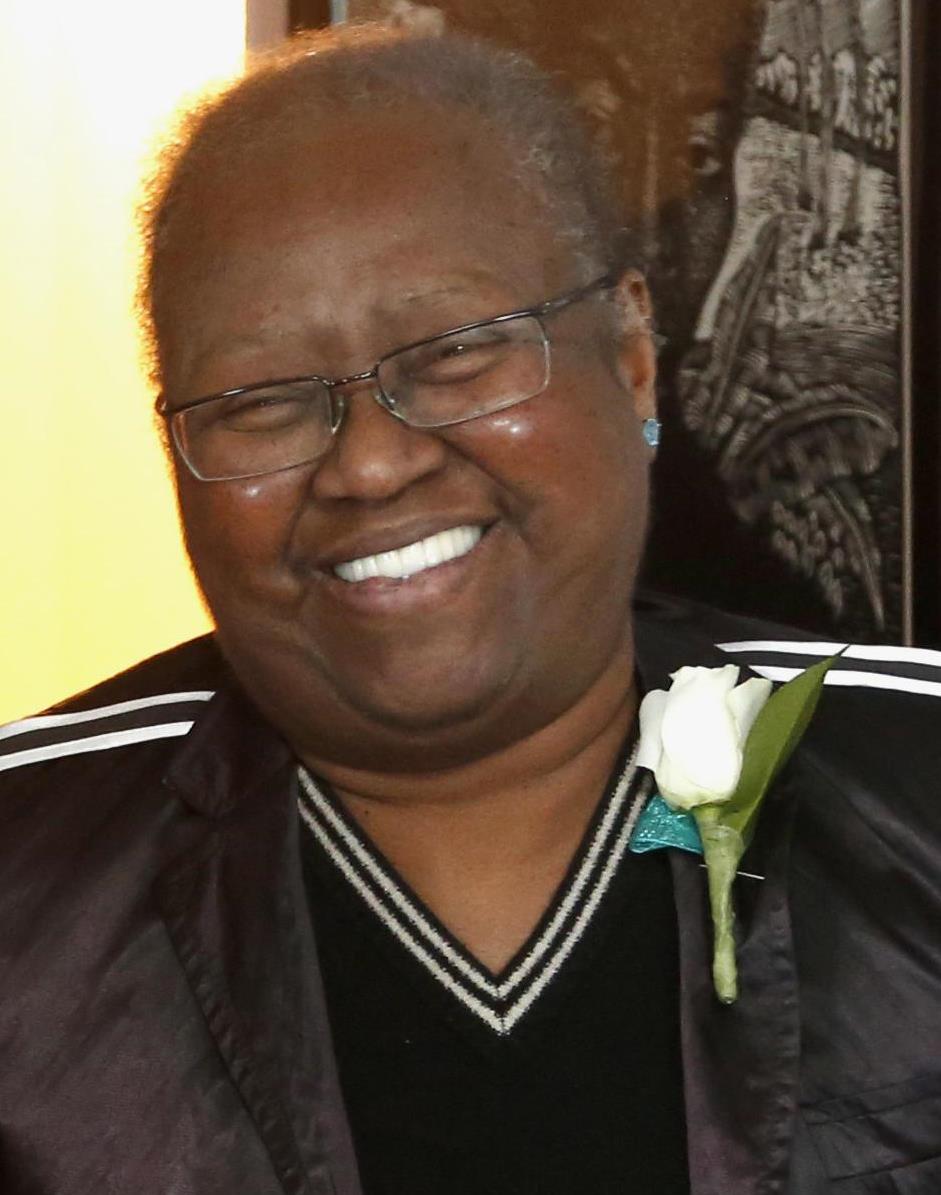 Vernita Gray
Vernita Gray was born on December 8, 1948 (to March 18, 2014). She was a pioneering LGBTQ activist and marriage equality advocate, and an early champion of lesbians and gay men in Chicago's African American community since the late 1960s. Gray made history by being part of the first LGBTQ couple to wed in Illinois.
Vernita Gray was a native of Chicago who graduated from Saint Mary High School and Columbia College, where she earned her degree in creative writing and communications. While attending the Woodstock Music and Art Fair in 1969, she first learned about the Stonewall riots and the emerging gay liberation movement. When Gray returned to Chicago, she began organizing support groups at local colleges, and with friends, hosted discussions in her home for lesbians.
In 1969, Gray participated in the development of a telephone hotline at her home for members of Chicago's gay and lesbian community. Because of her well-known sense of humor, the hotline telephone number was FBI-LIST. Interest in the support groups and the hotline was so intense,  that Gray eventually had to vacate her apartment to obtain a modicum of privacy and peace of mind.
Given the hostility in the larger community towards lesbians and gay men, Gray's activities were undertaken at some personal risk, but she was undeterred. She was instrumental in forming the first Lesbian Caucus of the nascent Gay Liberation organization in the early 1970s, and the first Chicago lesbian newspaper, "Lavender Woman."
Gray worked in the Cook County State's Attorney's Office for 18 years, including in the position of victim/witness assistant, where she helped LGBTQ crime survivors, and served as an outreach worker on LGBTQ issues. Prior to that, she owned the popular Sol Sands restaurant in Uptown for eleven years, and had worked for the phone company and as a copywriter for "Playboy" magazine. She later created a company developing audio visual materials for children.
As a young girl, Gray watched Dr. Martin Luther King, Jr., try to desegregate the heavily divided city of Chicago. Her visits to the White House years later brought tears to her eyes because she never thought she would see an African American president, especially from her hometown of Chicago. She first went there for a June 2009 Pride reception. The next time, in October of 2009, was for President Obama's signing of the federal hate crimes law, something she had supported for many years. Gray's more recent visits were in December 2009 and 2013, for White House holiday celebrations.
Gray met James Baldwin on a trip to Paris in 1972, after he strolled into the famed bookstore Shakespeare and Company while she was browsing. She said of the experience, "I was in awe. I said I really like your writing. And he smiled. I was just inspired. He was really one of my heroes. I also knew that just because I was gay, that did not mean I wanted to move to France like James Baldwin. I really wanted to go back to Chicago, back to my gay community. That was important to me. That really prompted me to do things. It reignited that spark."
Vernita Grey was a nearly constant presence at most LGBTQ marches and rallies in Chicago for decades. Her activism inspired many gay men and lesbians, especially LGBTQs of color, to get involved in the movement for equality and politics. She was a uniquely articulate and effective spokesperson for lesbian and gay concerns. Her organizational affiliations include Individuals Making Progress Across Communities Together (IMPACT), and Mountain Moving Coffee House for Womyn. Her consistent presence at marches, rallies, Pride parades, and political events endeared her to many.
Gray was an activist who juggled her love of community with her love for friends and partners. She had several long-term relationships, including one in which she helped raise two children. Gray and Patricia Ewert met on a women's cruise in 2009, and became engaged later that year. They had a civil union when those became legal in 2011, and held a large ceremony that same year.
Gray and Ewert were married in November after filing a lawsuit in U.S. District Court, arguing they should be granted the right to marry immediately, months before the effective date of the Illinois law legalizing gay marriage. The act also opened the door for a federal ruling that allowed all gay couples in Cook County to receive marriage licenses before the June 1 effective date of the law. Following their 2013 marriage, President Obama sent congratulations: "A love like yours is truly something to treasure."
Vernita Gray was first diagnosed with brain and bone cancer in 1996. She died at her Edgewater Beach home on March 18, 2014, after a long battle with breast cancer. She had been in hospice care for three weeks, and at the time of her passing, was surrounded by her spouse, mother, and other friends and family in the home where she and Ewert were married.
Gray published "Sweet Sixteen," a chapbook of her own poetry, and had been working on a novel at the time of her death. She called herself a hippie, and often signed her work with the final word "Peace." She told biographers Tracy Baim and Owen Keehnen, who released their book, "Vernita Gray: From Woodstock to the White House" in May of 2014, "I certainly embraced the hippie values of being who you are and changing the world and revolution—revolution happening for Blacks and revolution happening for women and revolution happening for gay people. Once that light bulb went on about the revolution happening for gay people, it was like I found myself. Being a gay hippie then became my life."
For her tireless work, Gray received dozens of honors. She was inducted into the Chicago Gay and Lesbian Hall of Fame in 1992. She received the prestigious Stonewall Award, the Horizons Community Services Human First Award, and many other accolades. Her legacy was honored by the Crossroads Fund with a Youth Fund to provide an annual gift to support groups working with vulnerable populations. Her lifelong contributions were recognized by the Astraea Lesbian Foundation for Justice with an award in 2014.
We remember Vernita Gray in deep appreciation for her life-long commitment to LGBTQ equality, and for her passionate work at building bridges to other communities.