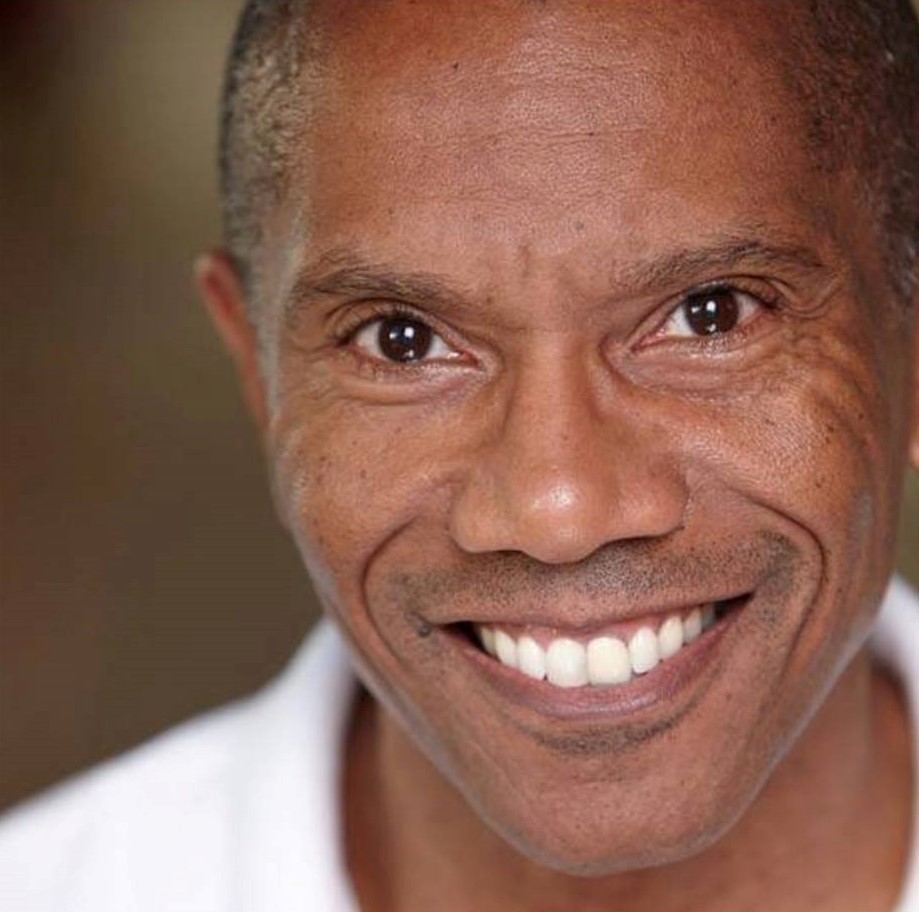 Larry Duplechan
Larry Duplechan was born on December 30, 1956. He is a popular Lambda Literary Award-winning author whose novel "Blackbird" was turned into a film directed by Patrik-Ian Polk. He is also a vocalist, musician, and graphic artist.
Lawrence Duplechan, Jr., was born in Los Angeles, California, the son of the late Lawrence Duplechan, Sr., an aircraft electronics engineer, and Margie Nell (Andrus) Duplechan, who worked as a postal clerk, office administrator, and homemaker. His mother was also a fine gospel singer whose musical talent Duplechan inherited.
Duplechan is the first-born of four sons, and his family included a half-sister from his father's first marriage. He describes his parents as "left-leaning Democrats," but notes that his family attended a strict, fundamentalist Black church. Both of his parents were of Creole heritage, natives of Mermentau, in southwestern Louisiana. Duplechan's writing frequently reflects the influence of his family's annual trips to visit his grandparents in Louisiana, most evident in his short story "Zazoo," and his novel "Captain Swing."
Finding the church of his youth incompatible with his sexual identity, Duplechan renounced Christianity in his 20s, and began studying the religions of the world. For his 40th birthday, a friend gave Duplechan a book by Joseph Campbell, which led him to reexamine his relationship with religion, mythology, and faith. He later returned to Christianity, first joining the Metropolitan Community Church (a gay Christian denomination), and later the Presbyterian Church. "Once I accepted that all religion is metaphor, as Joseph Campbell asserted, I found that I not only wanted to go back to church, but that it was both comfortable and comforting," said Duplechan. He is currently without a church affiliation, but continues to study Bible history, particularly the historical Jesus, and comparative mythologies.
The elder Duplechan's career in the aerospace industry demanded he move his family many times during Larry's childhood. He attended thirteen schools, including three high schools. He enrolled at the University of California at Los Angeles (UCLA), where he earned his Bachelor of Arts degree in English literature in 1978. While at UCLA, Duplechan met Greg Harvey, a fellow singer with the UCLA Men's Glee Club. They fell in love, moved in together in 1976, and legally married in 2008. Duplechan has consistently worked full time as a secretary ("Greg made it clear from the outset that he had no interest in supporting a starving artist"), while pursuing his various creative projects—first musical, later literary, and, most recently, graphic.
For seven years subsequent to college, Duplechan struggled in the music business as a pop and jazz vocalist. He performed solo, and also with the jazz vocal group String of Pearls, before giving up on his dream of becoming a singing star. "I don't think the world was quite ready for me. This was the early 1980s, mind you. There were no openly gay pop stars. Heck, Elton John wasn't even out yet," Duplechan recalled. Still needing to exercise his creative side, and with an English degree to his credit, he turned to writing. Duplechan's first published story, "Peanuts and the Old Spice Kid," appeared in the anthology "Black Men/White Men" in 1983.
Although gay literature was beginning to enter the mainstream, there were scant few Black and openly gay protagonists. "I couldn't find any literary characters who were like me; so I created a character exactly like me." Four of his five novels feature his alter-ego, Johnnie Ray Rousseau. His often sexually explicit writings are also infused with campy wit and feature colorful, memorable characters. His first novel, "Eight Days A Week," published in 1985, is an interracial gay love comedy, based on Duplechan's early experiences with his partner and his singing career. Although generally well-received in the gay press, the novel was ignored by the mainstream media.
In "Blackbird" (1986), considered the first modern Black gay coming out novel, seventeen-year-old Johnnie Ray Rousseau comes to terms with his homosexuality, and experiences first love. "Tangled Up in Blue," published in 1989, is a love triangle set against the backdrop of HIV/AIDS. It was a departure from Duplechan's other work, featuring a white heterosexual couple as protagonists, with Rousseau as a minor supporting character; it received harsh reviews and tepid sales. He released "Captain Swing" in 1993, a story of finding love at a time of great emotional loss, set in a tiny Louisiana town based on his parents' hometown. His most recent novel, "Got 'til it's Gone," won the Lambda Literary Award (Gay Men's Romance Category) in 2009.
In addition to Duplechan's novels, many short works and excerpts have been published in anthologies, including "Freedom in This Village: Twenty-Five Years of Black Gay Men's Writing" in 2005, "The Lost Library: Gay Fiction Rediscovered" in 2010, and "Mighty Real: An Anthology of African American Same Gender Loving Writing," published in 2011.
In 1998, after attending a ukulele concert, Duplechan took up the instrument. He began performing on the local ukulele circuit singing self-accompanied, and in 2003, released a CD ("Go Go Go") under the name Larry D. "Go Go Go" went all but unnoticed, but the album, which includes pop covers and Duplechan originals, can be streamed at https://soundcloud.com/larry-d-ukulele/sets/go-go-go-album.
Beginning in 2011, Duplechan's most recent creative foray has been in digital art. Much of it, like his writing, is intensely homoerotic. "My intent is to glorify the beauty and sexiness of men of every color and body type. I do my art for fun, so I don't have to worry about whether it will sell. So, if I want to draw a Black man, or an Asian man, or a fat man, that's what I do," stated Duplechan. His art has been exhibited at The Seattle Erotic Art Festival, Dirty Show Michigan, Bent-Con, and at Antebellum Fetish Art Gallery in Hollywood, California. You can see his latest creative expression here.
In 2014, Patrik-Ian Polk's film adaptation of Duplechan's novel "Blackbird," starring Oscar-winning actress Mo'Nique, Isaiah Washington, and newcomer Julian Walker as "Randy" Rousseau, premiered at the Pan African Film Festival in Los Angeles. After a hugely successful year on the festival circuit, "Blackbird" opened in limited release in 2015, followed by DVD/BluRay and on demand.
"I like the movie as a movie," said Duplechan. "But it's a fairly loose adaptation of my book. Patrik did a sort of mash-up of my story and his story—for instance, moving the location from Southern California to Hattiesburg, Mississippi, which is Patrik's hometown. Also, he took the character of the boy's mother, a relatively minor character in my novel, and gave her a big subplot I never would have imagined. But, when you've got an Oscar winner in your film, you give her something to do—that's Hollywood."
We thank Larry Duplechan for his insightful writing and art, and his many contributions to our community.