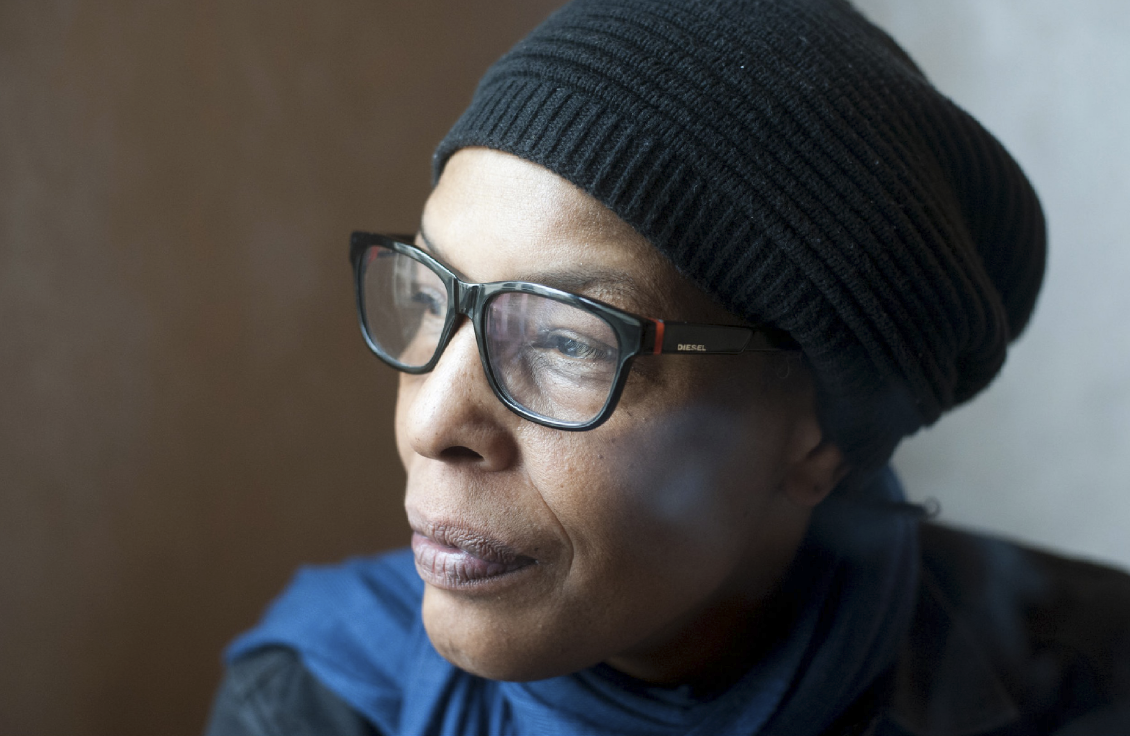 Marla Glen
Photo: Beate Knappe Photography
Marla Glen was born on January 3, 1960. She is a popular singer, actress and songwriter known for her unique smoky voice, haunting lyrics, and her fierce commitment to social change and the cause of human unity.
Marla Glen was born in Chicago, Illinois, the daughter of Dell Glen, a Jamaican-American banker who worked for Merrill Lynch, and Cortez Glen, a Mexican-American blues guitarist. She grew up on the South Side of Chicago surrounded by music. Her grandmother was a gospel performer, and her mother, who graduated from the University of Chicago, was friends with legendary blues guitarist BB King.
Glen's father joined the military at a young age, and became an engineer based in Frankfurt, Germany. Like many other children in Chicago's historic Bronzeville neighborhood, she sometimes received gifts and inspiration from well-known entertainers who frequented the neighborhood, also known as the Black Metropolis.
Glen was given a toy harmonica as a young child, and her musical talent became immediately apparent. She was only eleven years old when she wrote her first song, "Repertoire," which later earned her three gold records and one platinum, and appears on her 1996 release, "Love and Respect." Around the age of eleven, Glen received a guitar for her birthday. While she began earnestly mastering guitar, she also learned to play the clarinet, and used both instruments and her skills on the harmonica to entertain her friends and family. She discovered blues clubs in her hometown, and was excited to be able to join in on jam sessions, playing her harmonica with "real blues musicians."
Glen won first prize performing at a local jam session in New Orleans, and was rewarded with a trip to France, where she first performed before a European audience. She was an immediate sensation. When invited to stay in Europe, Glen accepted the offer, and has made her home in Germany ever since. She formed the Marla Glen Band, and in 1993, she catapulted to stardom with her debut album, "This Is Marla Glen."
Glen had ongoing disputes with her record label, her manager, and her lawyer, alleging that they had diverted funds and deceived her about the amount she would be paid for her work. She also alleged being lied to regarding efforts to promote her career. Glen was working hard, and making lots of money for others, but complained of being nearly destitute, because those she trusted were siphoning the money for work that wasn't being done.
More than twenty years in the music industry has taught Glen a great deal about the difference between art and business. But those hard-won lessons have not stopped the passion she has for performing on stage or her love of creating beautiful music. With her gently soulful ballads and her raspy voice, Glen enchants her audience, and they are passionate about this highly skilled artist and her unique creativity. Her shows are a feverish mix of blues, soul, jazz, rock and roll, house, and strong influences of African music.
Marla Glen conquered the European music market with her smash album "This Is Marla Glen" in 1993, and has followed that success with "Love and Respect" in 1995, "Our World" in 1997, "The Best of Marla Glen" in 1998, "Friends" in 2003, "Greatest Hits Live" in 2005, "Dangerous" in 2006, and "Humanology" in 2011. Many of her music videos are in German or French, but the language of music is universal.
Marla Glen has distinguished herself as a campaigner for a fairer world, and gives of her time to efforts to bring people together. She has supported fundraising campaigns for UNICEF, for feminist causes across Europe, and for anti-violence campaigns.
She appears on stage in pinstripe suits, complete with tie, a Herrenhut fedora, and a cigar. She is a proud, masculine identified lesbian who lives her life with integrity and openness, and performs onstage with amazing drive and tenacity. In July of 2004, she entered into a civil union with her then-girlfriend Sabrina Conley, but they have since ended their relationship, which Glen described as a "difficult divorce."
As an actress, Marla Glen made a cameo in "The Amazing Nina Simone" in 2015, and guest starred in the "Die Harald Schmidt Show" and "Dans la cour des grands." Both Glen and her music have appeared in commercial spots for clothing company C & A, and her cover version of James Brown's "It's a Man's World" was extensively used in a spot advertising the men's fragrance Tabac in 2000 and 2001.
We thank Marla Glen for her lifelong commitment to creating music, for her passionate dedication to social justice, and for her many contributions to our community.