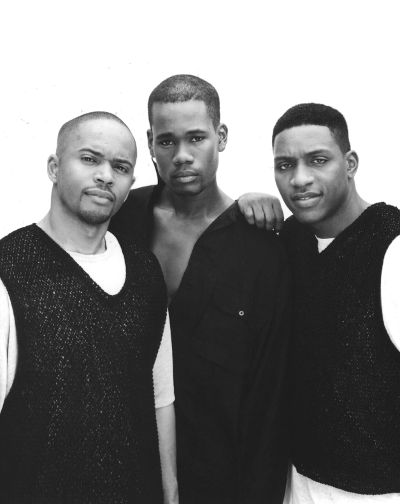 Kenny Greene
Kenny Greene (center) with his Intro bandmates, Clinton "Buddy" Wike (left) and Jeff Sanders (right)
Kenny Greene was born on January 17, 1969 (to October 1, 2001). He was a vocalist, songwriter, and lead member of the R&B group Intro (Innovative New Talent Reaching Out).
Kenny Greene was born and raised in Detroit, Michigan. He enlisted in the Army at the age of 18, and began singing and playing the piano at military talent shows. His friend and collaborator, Clinton "Buddy" Wike, was also in the service, and they began to meet and create music at a club near their base in South Carolina. Greene and Wike decided to start a group, inviting another service member, Nelson, to join them. They formed Innovative New Talent Reaching Out, appearing as Intro. DJ Eddie F of Heavy D & The Boyz heard them sing around 1990, and he and Heavy D took the group under their wing.
The trio really wanted to sing, but Army duties were in the way, so Greene and Wike asked to be discharged after recording tracks for an album. Nelson decided to stay in the military, and Buddy brought in his childhood friend Jeff Sanders. After leaving the Army, Kenny Greene's attraction to both women and men took on greater importance as he stood out at clubs and in the nightlife that he so loved. He was handsome and talented, and always had a positive impact with the ladies. But he liked men as well, and those around him warned him to take precautions, and protect himself from HIV and AIDS.
As one third of Intro, Greene was considered by many of his peers and music industry insiders as a pioneering and extremely promising artist. He was the backbone of the group, writing and producing most of their songs. Greene also wrote for other artists, penning songs for the then-unknown Mary J. Blige, including "Reminisce" and "Love No Limit," and worked with Tevin Campbell, Will Smith, Cam'ron, 98 Degrees, and Jason Weaver.
Kenny Greene may not have been a household name, but his reputation in the music world, and the impact his work was having on other artists, was nothing short of profound. Known by fans as G-Love, Greene is credited with taking the popular New Jack sound farther, giving it what would ultimately be called a neo-soul flair. His writing and arranging was so critically lauded that he and Dave Jam Hall (who produced Mary J. Blige's "What's The 411?" and much of Madonna's "Bedtime Stories") tied with Jimmy Jam and Terry Lewis for ASCAP's Songwriter of the Year Award in 1993.
Intro dropped its debut album in 1993 on Atlantic Records, and it spawned the hits, "Let Me Be the One" and "Why Don't You Love Me," and included their love ballad "Come Inside." Their first album was stellar and more accomplished than many of the debuts by male groups coming out at that time. Greene's arrangements were influenced by soul and jazz classics, layered with New Jack beats, and provided a fresh and complex sound that delighted fans and critics alike.
But there were problems lurking in Kenny Greene's private life that threatened everything. Darian Aaron, the creator of "Living Out Loud with Darian," blogged: "The closet that Kenny Greene was forced to live in in the early 90's and the secrecy and shame surrounding his sexuality and debilitating health would prove to be as detrimental if not worse than the disease itself."
In his first videos, Kenny Greene appears thick and husky. But he soon began to lose weight, and his bandmates, friends, and people at their label couldn't help but take notice. Greene brushed it off as unimportant. He tried different appearances—at one point dying his hair blonde and being forced by his label to change it back to black. Greene complained of having the flu often, and continued to get thinner. He struggled to maintain a grueling touring schedule, even as continued to deny having any health problems and seeking medical care.
Intro's second and final album together, "New Life," provided more lush backgrounds with insightful lyrics and rich harmonies. Kenny Greene's ability to take simple arrangements and merge them with a modern context made him a hidden gem among showier neo-soulers who couldn't find a way to make their influences mesh with a modern context. Intro had a hit with its cover of Stevie Wonder's "Ribbon in the Sky" in 1994, and made plans for a third album with Greene that would never come to be.
By the time Intro collaborated with other Black male artists on the song "U Will Know," it was apparent that Kenny Greene was quite ill. Greene would later admit that his bandmates knew nothing about his intimate forays with other men, and were surprised to learn he was same-gender loving.
In a 2001 interview with "Sister 2 Sister" magazine, Greene revealed that he was bisexual and that he was suffering from AIDS. It was important for him to talk about it because the pressure to be a straight man in the alpha-male world of R&B, especially for very sexy male crooners singing songs about love and romance, was enormous. His statement was courageous, and to many, shocking. People listened to his familiar love songs over again, trying to detect if it was composed with a man or woman in mind. Music writers and reviewers didn't know how to process his admission. Some condemned his honesty, while others pointed out that who he loved or how he loved was irrelevant.
On October 1, 2001, Kenny Greene died in New York City at the age of 32 due to complications from AIDS. His family did not attend his wake, arranged by his friends and studio at the Redden Funeral Home on Manhattan's West 14th Street. He was honored by the United States Army, and buried at Calverton National Cemetery on Long Island. He final recording was earlier in the year as a backup singer on Tyrese's song "For Always" on the "2000 Watts" album.
We remember Kenny Greene in appreciation of his brilliant contributions to music, and his support of our community.