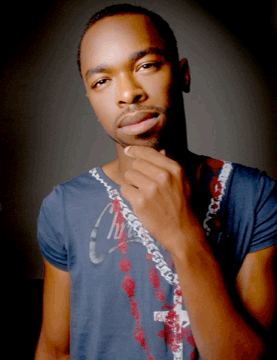 Shelton Jackson
Shelton Jackson was born on February 4, 1978 (to March 2, 2009). He was poet, author, HIV/AIDS educator and activist, inspiring LGBTQ advocate, and founder of a publishing firm.
Shelton Samad Jackson was born in Newark, New Jersey, the son of two drug addicted parents. He describes his father, the late Shelton Robert Williams, as a functioning addict who worked as a garbage man, and his mother, Lyndale Jackson, as a drug addict and an alcoholic who held sporadic jobs but no stable positions. He and his brother, Rahim, were largely raised by their maternal grandmother, Barbara Williams, and sometimes by their paternal grandmother, Georgia Jackson, and other family members.
Known as "Snoop" and "Shelty" to his legions of friends, Shelton Jackson attended Newark Public Schools, and graduated from Weequahic High School in 1996. He entered into a number of institutions of higher education, ultimately attending and graduating from Essex County Community College (ECCC) in 2004 with a degree in accounting and a minor in journalism. While at ECCC, he became an outspoken "gay thorn" in the administration's attempts to overlook queer voices, and served as editor of the college newspaper, often openly discussing both his gayness and HIV status, to the consternation of others.
Jackson's paternal grandmother took him to a Baptist church almost every day. Jackson later said that "once I realized that the people that they were talking about as devils was me, once I was old enough to say that I didn't want to go to church and not get sniped down to the floor, I stopped going." Jackson later went back, but says the more he listened, the more he realized that they were judging and talking about him. "They want to call me a devil, they want to say that I am going to hell, and they want to say that my life is an abomination—and then they want me to pay them!" He vowed that would be the last thing he would ever do.
Jackson later wrote that his family initially rejected him because he admitted to being gay, but eventually their love won out, and they embraced him for who he was.
When Jackson was 18, he met his future partner, Conan R. Tyler, on a visit to New York's Greenwich Village in June of 1996. By August, they were in what Jackson described as a "happily ever after" relationship. Two years in, the couple stopped using condoms. When his partner later developed pneumonia and his test for HIV came back positive, Jackson knew that he must be HIV positive, too. Jackson devoted his energy to taking care of his lover, and did his best to ignore his own peril. He didn't even get tested ("I didn't want to know") until some friends made him. Jackson was finally tested in April of 1998, and his positive diagnosis began his journey to become an advocate.
Three years after his partner tested positive, Jackson developed pneumonia for the third time, and it wasn't certain he would make it. Jackson planned to stay healthy enough to care for his partner, trusting that he would reciprocate if Jackson got sick. Jackson said that he believed that love would conquer AIDS, that their lives were so intertwined that he couldn't imagine the possibility of life without him. But when it looked like his lover wasn't going to make it, Jackson decided to take care of himself because he might have to die by himself.
Jackson began a regimen of medications, but by 2001, he had lost 50 pounds, and was diagnosed with AIDS wasting syndrome. A renewed focus on the correct medications, and adherence to taking them, stabilized Jackson's health. In January of 2002, he became the first employee of the African American Office of Gay Concerns (AAOGC), in Newark, New Jersey, under the direction of Gary Paul Wright. While there, Jackson served as its administrative coordinator, and helped to create this vital agency in the belief that it would change both perceptions, and lives.
Jackson was deeply committed to making a difference in the lives of other Black, gay men. His excitement for the work at hand, and his hopeful optimism, inspired others to join the struggle. But on June 25, 2002, Shelton's beloved partner, Conan Tyler, died in his arms after he was removed from the life-support machines that kept him alive. Jackson later said that his dreams of "happily ever after" died on that very sad day, along with his beloved partner.
Shelton Jackson later wrote that he was alive and needed to start over—alone—but strong and determined, and looking for his destiny. He would state that it was, in fact, love that allowed him to let go of the past, and rediscover himself. "Now that the sun has risen and I can see; I realized that I can go on and do anything I want," he wrote. He added, "World, my time has come and I have arrived, this is the second chapter of my life."
Jackson told his story to a local news channel following Conan's death. After the interview went statewide, some friends ostracized him. Gary Paul Wright would later recount these painful conversations: "How could you do such a thing?" he was asked. "Because it's my life" he'd tell them. "Like it or not, I have to get on with it."
Jackson left the African American Office of Gay Concerns in August of 2004 to continue his education in Baltimore, Maryland at Morgan State University, where he majored in English and journalism. While In Maryland, Jackson's advocacy was described as "a beacon of light" for others. He lived in Baltimore with his lover, Kent Williams, and became a mentor and surrogate father to three special young men. Charles Tyson, Richard Keller, and Charles LaMont came to mean everything to Jackson, who wanted to help them avoid the problems he encountered in life, and give them the encouragement and loving support they needed to live their lives fully.
Shelton Jackson was determined to educate and empower others in the fight against HIV/AIDS. He began to journal, and parts of that very personal outpouring became "The Second Chapter: Acceptance" in 2005, his journey of how he put his life back together, and moved forward with renewed hope, in the face of HIV/AIDS.
After the release of his first book, Jackson discovered that by helping others, he also helped himself. He went on to write and release a book of his poetry, "The Dawn of a New Day." It chronicled his first year in Baltimore, trying to be alone for the first time in his life, attempting to date, and adjusting to the new paradigm in this life. Jackson published it under SSJ Publishing, Incorporated, his own publishing company, which he created to give others examples of overcoming obstacles, and to inspire others to live in, and celebrate, their truth.
Jackson continued his HIV/AIDS activism and journalistic endeavors by becoming a freelance writer for several newspapers and magazines. It was also at this time he became a motivational speaker. Jackson traveled nationally with Hope's Voice International to promote his message of prevention to others. Hope's Voice International was established in 2004 to give HIV and AIDS a face and a voice through speakers, ambassadors, and a "Does HIV Look Like Me?" campaign, which featured Jackson's image and story, among many others. He was a "star" in their "Road To Hope Tour" that made its way to college campuses, community centers, and houses of worship around the country.
Jackson shared his story with students, and created a connection with them that they will never forgot. He was a man determined to not let a disease define him. Jackson's story was filled with love, pain, struggles, and dreams. Here was a man who could have been defeated by so many challenges in his relatively young life, but was so determined to show the world that it is not our challenges, but how we respond that shows who we are. Friends and colleagues described Jackson as a man that lived, laughed, and loved harder and more deeply than anyone else. His story and words touched countless young people, and certainly saved lives, as he opened minds and hearts wherever he went.
Jackson was very spiritual, and after coming through all of his triumphs and tribulations, remained a man firmly anchored in his beliefs. "I have come to the understanding that this is my destiny," he wrote. "Through God I have survived to tell my story and live to do his will. He is my reason for being who I am, and I give thanks to him with each breath that I take to help others as they help me."
Jackson left Baltimore, and briefly moved to Atlanta, Georgia. But his stay would not last long, as his health began to deteriorate quickly. He left Atlanta and moved back to New Jersey in the summer of 2008. Jackson followed through on plans to join the board of the African American Office of Gay Concerns.
In May of 2008, Jackson blogged: "I got comfortable—too comfortable—and started taking my good health for granted, which led me to stop taking my meds. My CD4 count and viral load went from 638 and undetectable to 150 and 100,000 in a year. I am currently fighting again to get my numbers back up and refortify myself. I see myself in the final stage of my evolution, evolving into the person that will carry out my destiny. I am not giving up because I know my struggles with HIV show others that it can be done. So, I fight the good fight and hope that others learn and grow from my struggles, my failures and my accomplishments."
By the fall of 2008, Jackson's health took a turn for the worse. He was admitted to the University of Medicine and Dentistry of New Jersey (now University Hospital) in early 2009. Shelton Jackson never recovered, and was among friends when he lost his battle with AIDS on March 2, 2009.
Shelton Jackson wanted to make a difference. He wanted his life to count for something. He wanted to inspire, and motivate, and create change through his testimony. Jackson achieved that every day that he was with us, and succeeded in touching lives wherever he went. His cheerful deposition, his humor, and his determination moved others to action, still inspires us to do our best, and give our best, as we continue his fight against HIV and AIDS among Black gay men.
We remember Shelton Jackson, and thank him with deep appreciation for his commitment to public service, for his advocacy to educate and empower others in the fight against HIV/AIDS, and for his many contributions to our community.
Special thanks to Gary Paul Wright for his assistance, encouragement, and loving research in compiling this biographical tribute.