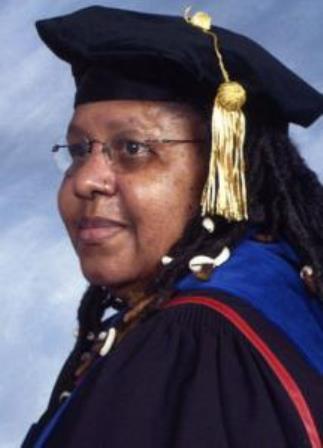 Elizabeth Hadley
Dr. Elizabeth Hadley was born on February 26, 1950 (to October 14, 2007).  She was a beloved professor, researcher, theater director, advocate, and author.
Dr. Elizabeth Amelia Hadley was born in Harlem, and grew up in a foster home there in the 1950s and '60s. She entered the foster care system at such a young age that she reportedly remembered little about her birth family.
Elizabeth Hadley graduated with a Bachelor of Arts degree from the University of Rochester in 1973, and received her Master of Arts degree from the University of Pittsburgh in 1977. She married and gave birth to her beloved daughter, Malika. Dr. Hadley's marriage ended in divorce at about the time she began pursuing her doctorate at Indiana University. "It took awhile to get that degree because my mom never did anything the easy way," her daughter Malika Hadley Freydberg said. Elizabeth Hadley went on to earn her PhD. in theatre and drama from Indiana University, with concentrations in African American, women's, and American studies in 1990.
While looking for a dissertation topic, Elizabeth Hadley found that little attention had been paid to the first African American woman to pilot airplanes. To right that oversight, she spent more than a decade preparing her dissertation and then turning it into a book, "Bessie Coleman, The Brownskin Lady Bird."  "I wanted to get it into the history books for our own children," Dr. Hadley told the "Boston Globe" in 1994, after the book had been published.
Conducting extensive research and writing about a relatively obscure aviator meant that Dr. Hadley all but took up residence at a microfiche machine in the Indiana University library, though the long hours of research were broken up by road trips to interview those who had known the pioneering aviator.  Elizabeth "Bessie" Coleman broke many records in American civil aviation, and was the first female pilot of African and Choctaw American descent and the first African American to hold an international pilot license.
At home, Elizabeth Hadley set aside time to ensure that her daughter had good role models, even among her playthings. "She made my dolls until about the age of seven," her daughter recalled. "When I was born, she could not find dolls of color that were soft, so she learned how to make dolls. My first doll was a black Raggedy Ann, and my favorite part was that she sewed on a heart that said, 'I love you.' If you looked under the doll's dress, there was the heart sewed onto her chest."
Dr. Hadley's intellectual flight through aviation history took her into one of the many fields where her imagination alighted during a career as a college teacher, theater director, and writer on topics such as film, poetry, feminism, and female entertainers in popular culture. For several years she alternated in chairing the Africana studies program at Simmons College, a private women's undergraduate college and co-educational graduate school in Boston, Massachusetts. Dr. Hadley was "one of the key forces that shaped Africana studies at Simmons and also at other colleges around Boston," said the college's president Susan Scrimshaw. "One of the phrases people used was that she was a unique voice and a powerful presence. When she was here, she taught a very popular course on images of African American women in films," Scrimshaw added, "She was beloved at Simmons."
Along with directing plays, Dr. Elizabeth Hadley studied opera, though she did not perform publicly. "She would…sing around the house, and she had some nice pipes," said her daughter. Among her mother's favorites were the spiritual "Sometimes I Feel Like a Motherless Child," and the hymn "Precious Lord, Take My Hand." She was fond of anything purple, and was drawn to shades of violet in her clothes and accessories.
Dr. Hadley took her daughter to Africa in 1989 and 1990 to spend a year teaching at Kenyatta University in Nairobi on a Fulbright fellowship. Before leaving Indiana, one of the last stops mother and daughter made was at a shelter for battered women, where they donated belongings and clothing they could not bring with them to Kenya. When they departed Kenya, they found places to donate books Dr. Hadley had accumulated. Books were Elizabeth Hadley's favorite gift, and were frequently bestowed on children wherever she lived, her daughter said.
They returned to the United States and lived in Brookline, Massachusetts while Dr. Hadley served as a National Endowment for the Humanities Scholar in Residence at the Summer Institute on African American Literature at Northeastern University, taking time away as a Rockefeller Foundation Humanities Fellow in Feminism and Visual Culture at the Susan B. Anthony Center for Women's Studies at the University of Rochester in the mid-1990s. She also served as the Jane Watson Irwin Distinguished Chair in Women's Studies at Hamilton College, a liberal arts college in Clinton, New York.
A consummate educator, Dr. Elizabeth Hadley also taught at Boston College, Boston University, Dennison University, Indiana University, Lasell College, Hamilton College, and Wheelock College.  Along with African American studies, the courses she taught included subjects such as theater, cinema, and women's studies.
Dr. Elizabeth Hadley was involved in relationships with other women, but she remained quiet about her private life. She remained passionately vocal about equal opportunities and justice regardless of race, ethnicity, class, gender, age, sexual orientation, or ability status, and is widely respected for her advocacy for civil rights and feminism.
Known for her incisive views, Dr. Hadley cast a critical eye on the way blacks, African American women in particular, were portrayed in venues such as television and film. She was scornful of music videos that perpetuated stereotypes reaching back to Sapphire in "The Amos 'n Andy Show" and beyond. "They are a derivation of all the images we've had before, whether it's Mammy, Sapphire, or Pam Grier, who played in all those blaxploitation films," she told the "Boston Globe" in 1993.
In 2005, after the new head of programming at Black Entertainment Television announced the network's fall lineup, Dr. Elizabeth Hadley expressed her disappointment at what she saw as an unnecessarily narrow vision of African Americans. "I'm not saying BET has to be PBS," she told the "Globe" in April 2006, "but there is more to Black people than rap music."
Cultural criticism was but one of many roads Dr. Hadley traveled in order to teach, said her daughter, Malika. "My mom's deal was definitely education," she said. She co-edited with Professor Charles I. Nero the first full-length scholarly work on Whoopi Goldberg, as well as an encyclopedic manuscript, "Blacks in Film, Television, and Videos," and an essay on lyric soprano Leotyne Price for the "Anthology of African American Female Musicians."
Her essays and reviews appeared in "Abafazi: The Simmons College Journal for Women of African Descent," "The Journal of American History," "American Studies in Eastern Africa," "Theater Journal," "Visions Magazine for Film and Television," "Black American Literature Forum," and "Women of Color Perspectives on Feminism and Identity."
Dr. Elizabeth Hadley died at her Somerville, Massachusetts home after a courageous eight-year struggle with breast cancer. Dr. Hadley was 57, and serving as an associate professor of Africana studies at Simmons College.
We remember Dr. Elizabeth Hadley in appreciation for her lifelong commitment to teaching and serving others, her powerful advocacy for those who are marginalized, and her many contributions to our community.