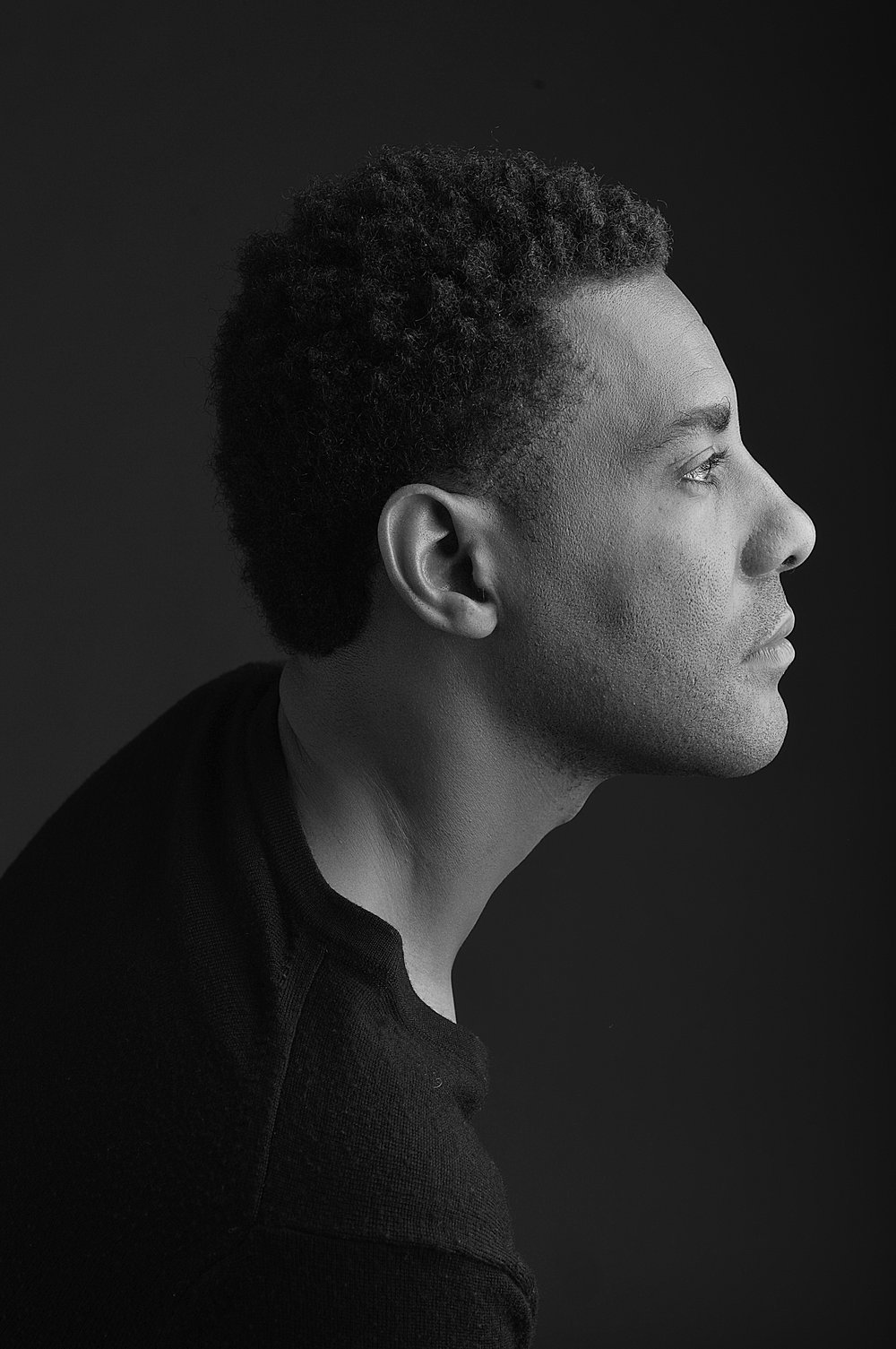 L. Lamar Wilson
Photo: Tyrus Ortega Gaines
L. Lamar Wilson was born on March 17, 1979. He is an award-winning poet, librettist, newspaper editor and essayist, and literary scholar.
Leroy Lamar Wilson was born in Marianna, Florida, to Leroy E. Wilson Jr., a lifelong teacher and social worker, and Annell Wilson, a seamstress, factory worker, and homemaker. He attended Marianna High School and graduated in 1997 as its second African American and first Black male valedictorian. Wilson also rended racial barriers in regional and state competitions in tennis and concert music, as a trumpeter.  Following high school, Wilson enrolled in Florida Agricultural and Mechanical University (FAMU), where he graduated summa cum laude with a bachelor's degree in newspaper journalism in 2001.
Born with Erb's palsy, resulting from a congenital brachial plexus injury, Wilson realized early on that in addition to the challenges of living with upper-limb paralysis, he would experience the joys and the trials of what he calls "the gift of 'gay.'" It was at FAMU—upon discovering that he shared a birthday with civil rights leader Bayard Rustin, who was openly same-gender-loving but ostracized in the movement and written out of history until recent years—that he began his journey to self-acceptance. A tribute to Rustin that Wilson published on his 22nd birthday, while serving as a contributing editor for Tallahassee's black weekly, "The Capital Outlook," served in many ways as what he calls his "coming through"—the ongoing process of shedding internalized shame to fully loving himself, and welcoming his close friends to embrace all that comes with this gift.
Wilson's journalism career took him from reporting and editing at Florida dailies ("Tallahassee Democrat," "Ocala Star-Banner," "Pensacola News Journal," and "Tampa Bay Times") to the "Milwaukee Journal Sentinel," "Atlanta Journal-Constitution," "Washington Post," "The New York Times," "Charlotte Observer," and several of the McClatchy Co.'s other North Carolina papers. His editing in the "Washington Post" and "Atlanta Journal-Constitution" and at McClatchy earned Wilson National Association of Black Journalists and North Carolina Press Association awards.
Interviewing renowned poet Nikki Giovanni led L. Lamar Wilson in 2007 to leave Atlanta and pursue an MFA at Virginia Tech, which he earned with top honors in 2010. While there, his poetry was honored with the Emily Morrison and Beau Boudreaux poetry prizes, twice was a finalist for the New Letters Poetry Prize, and was nominated for the Pushcart Prize.
"Sacrilegion," Wilson's first book, was selected as the 2012 winner of the Carolina Wren Press Poetry Series. It was published in January 2013, was a finalist for that year's Thom Gunn Award for Gay Poetry, and won a bronze medal from the Independent Publishers Group. "Prime" (Sibling Rivalry Press, 2014)—a hybrid text of poetry and conversation among Darrel Alejandro Holnes, Saeed Jones, Rickey Laurentiis, and Phillip B. Williams—was named one of that year's best collections by the Poetry Foundation. Poems from these collections have been widely anthologized, have been translated into Ukrainian, and used in German textbooks to teach about the Black Lives Matter Movement.
In a March 2013 Lambda Literary Foundation interview, Darnell L. Moore wrote, "L. Lamar Wilson is one those great writer-friends who is, as he notes, 'prone to arrogant behavior': a black-queer-(dis)abled-praying poet whose personhood might be rendered illegible in a world often organized around whiteness, heterosexuality, and able-bodied privilege. It seems logical, then, that arrogance is used to counteract processes of invisibility. And what better way to animate oneself and one's imagined world than through the word, through poetry."
In discussing "Sacrilegion," Wilson says, "The specter of HIV/AIDS has haunted me most of my life. As a child, I watched it destroy loved ones and watched others' humanity be destroyed by their fear and loathing of what they didn't understand. And in this nation that is insistent upon policing black male flesh—of making black men guilty until proven innocent of a crime—we have legalized ignorance and fear of those men who choose to experience eros with other men and keep those choices private. As much as we want to say that this 'Know Your Status' campaign is an epistemology of empowerment, it is equally a 'Prove Your Innocence' campaign."
Wilson adds, "As current laws in many states stand, those living with this virus and its illnesses are in peril of being found guilty of attempted murder at any moment someone says 'S/he didn't tell me.' Emerging in a twenty-first-century moment that is so steeped in the rhetoric of hope around this virus, 'Sacrilegion' aims to articulate how it feels to contend with the cruel optimism one deemed a potential criminal knows intimately. It is my hope that my work forces us to face our fears of HIV/AIDS. Life has brought me intimately close to facing my own, and I hope 'Sacrilegion' gives readers their own sublime experience in the mirror."
In 2014 and 2017, Wilson adapted "Sacrilegion" into musical productions for Reading Queer, a Miami-based organization for LGBTQIA artists, and Mickee Faust, a Tallahassee-based troupe that welcomes those living with disabilities. He is completing his doctorate in African American and multiethnic poetics at The University of North Carolina-Chapel Hill, and two manuscripts—a poetry-based hybrid text centering Black joy in the era of Trump and a collection of scholarly essays rehistoricizing Black protest through the voices of black mothers and orphans across four centuries.
Wilson lives in Birmingham, Alabama, and teaches at the nearby University of Alabama.
We thank L. Lamar Wilson for his numerous contributions to the written word, and for his support of our community.