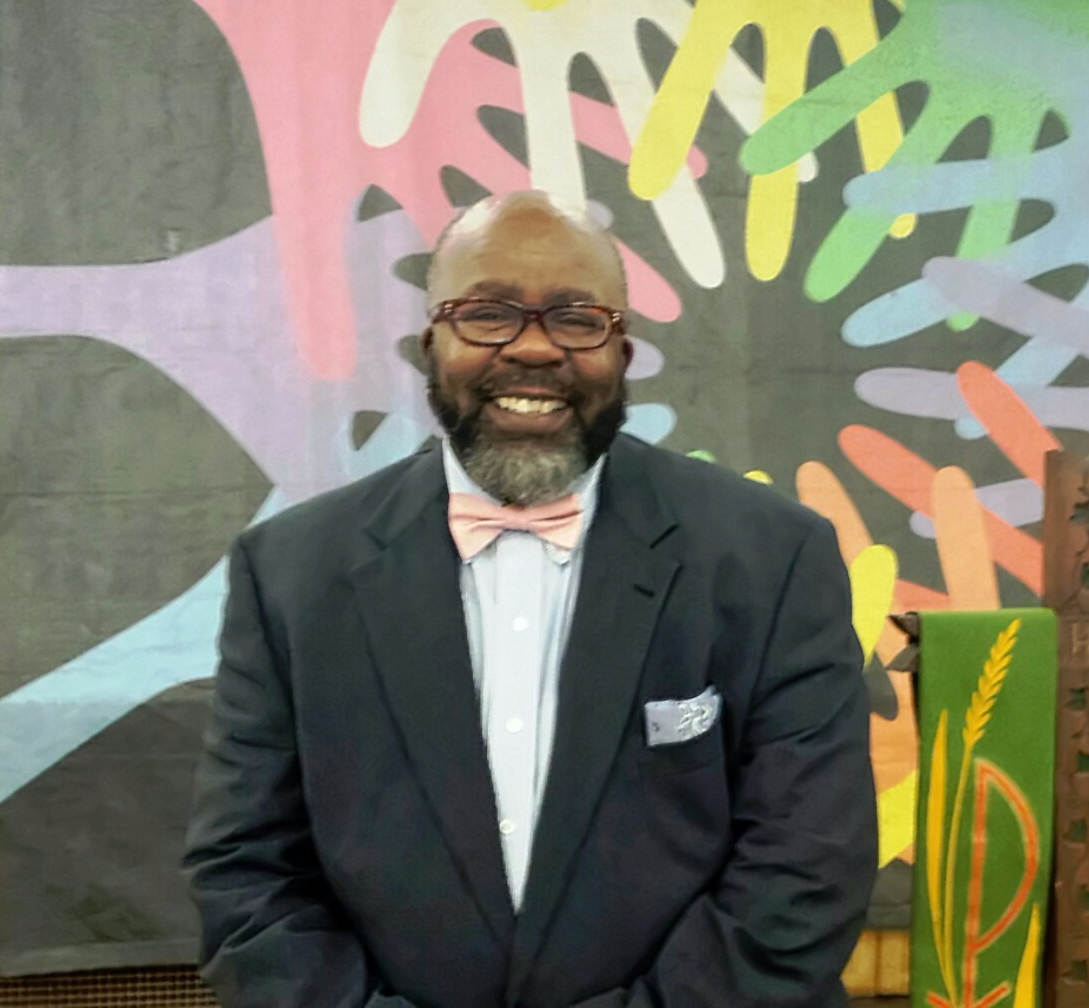 Louis J. Mitchell
Louis J. Mitchell was born on August 15, 1960.  He is a respected, longtime transgender activist, faith leader, social justice advocate, and community builder.
Louis James Irving Mitchell was assigned female at birth, named and raised as a girl, but says he knew as young as three years old that "she" was not who he was. His life began in Los Angeles, California, the beloved child of Joyce L. Johnson. Joyce and his paternal contributor, Ernest, were not married, and Ernest was concurrently involved with another woman, who was also named Joyce Johnson. His parents' relationship was short lived, and Joyce would go on to date Robert L. Irving. She maintained that Robert "wasn't really her type" but he was the only person she dated who actually made time and plans to go on dates that included her baby. They married in 1963, and Robert legally adopted their child.
Louis, also known as "LJ," spent the first ten years of his life with his maternal grandmother, Janie Mae Johnson, in the Crenshaw district of Los Angeles, and then moved with his family to West Covina, where he graduated from Edgewood High School in 1978. He was raised as the middle class kid of a working class family. Joyce retired from the Los Angeles District Attorney's office, where she worked as a secretary, and Robert, who passed away in 1991, worked for Four-S Bakery as a route delivery driver. Though raised in the suburbs, Louis spent a lot of time visiting family around the country, notably in Corpus Christi, Texas; Hattiesburg, Mississippi; Birmingham, Alabama; Detroit, Michigan; and frequent weekends with cousins in Compton, California.
Even though he graduated near the top of his class, and with one of the top Scholastic Aptitude Test (SAT) scores in the country, Louis was already wrestling with addiction, complicated by his uncomfortable relationship with his identity and discomfort over his attractions. It would take both time and a commitment to transform his life before Louis would find peace in reconciling the different aspects of his existence.
When his beloved grandmother died in 1978, Louis went on a binge—engaging in theft and prostitution, and doing time in jail, all the while surviving sexual trauma. This was a difficult time, and he describes it as his "version of slow suicidality." Having left behind all formal religion because of his belief that God didn't and couldn't love him, Louis felt no compulsion to see what adulthood might have to offer.
He returned to West Hollywood and found recovery in 1983. One of his first jobs was with the Los Angeles Gay and Lesbian Community Services Center, where he worked with runaway and throwaway youth, trained as a peer counselor, and managed the youth shelter.
As a young, naïve and optimistic activist, Louis learned that "community" looks very different from the lenses of folks who are not white, wealthy, cisgender, able-bodied, American-born and gay or lesbian. Experiencing all of the "ism's" intra-community was a painful lesson that he'd never forget.
Louis, in his former incarnation, was involved in the lesbian and women's communities, serving on the board of Connexxus Centro de Mujer, and helping to start support groups around Los Angeles for LGBTQ young people and people in recovery.
After winning money on a game show, Louis relocated to the San Francisco Bay area to study with Angela Davis at San Francisco State University in 1989. While a student, he offered to help Professor Davis as she started her work in the prison system in San Francisco. Louis stayed on as a credentialed teacher after Davis left to teach at UC Santa Cruz. He credits those years at the jail as being some of the most formative in his life of activism. Louis went on to work on the Tom Ammiano for Supervisor campaign, and was offered the position to serve as his legislative aide after his successful election.
Passionate about community service and social justice, Louis has been a persuasive advocate for the rights of the LGBTQ community, African-American and other people of color communities, as well as the homeless, HIV/AIDS-affected, and recovering and inmate communities. He has worked in non-profit community service and government agencies for most of his career. His commitment to serve the least, the last, the lost, and the left-out has had a profound impact on the lives of so many. Though Louis would have preferred a more formal education, he is an autodidactic learner and a critical thinker who has continued to learn and grow.
Louis remembers always feeling "not quite" right with his lesbian identity, but lacked the language to rightly identify himself. In the early 1990s, as some of his friends began to transition, what had always been a fantasy was now possible. With that truth came the uneasiness of walking through the fears to live into that integrity, not the least of which was coming out to his mom…again.
Two factors cemented his commitment to living fully as himself. While serving as emcee at the Bay Area Dyke March, LJ looked out at the community that he loved so deeply. He realized that by not moving on he was stealing an opportunity from one of them because he was holding space that wasn't his to hold. Secondly, he realized that part of him was waiting for his mom to pass on to begin his life—and he didn't want any part of him wishing for her demise. He decided then and there that even if it meant that he would lose a relationship with his mom, he needed to live fully in his truth.
Most of the men that Louis met who transitioned—or were in the process of transitioning—were white. In his search for other men of color, he connected with the lives and stories of Marcelle Cook-Daniels and Alexander "Bear" Goodrum. Their lives and work gave Louis hope and inspiration; the loss of both to suicide in 2000 and 2002, respectively, impacted him deeply.
Very early on in his transition, he was given the opportunity of opening a program that he'd helped to develop, called the Oshun Center. It would be located at the site that once housed Compton's Cafeteria, on the corner of Taylor and Turk in San Francisco's Tenderloin district. Though new in his transition, he felt awed by the chance to provide services at a place that had so much history for him as a man of trans experience.
In 2001, Louis and his then-wife, Krysia L. Villón, moved to western Massachusetts. He picked up where he left off working for service agencies until he was accepted at Andover Newton Theological School. Reluctantly answering a call to ministry, Louis founded Recovering the Promise with Rev. Charla Kouadio in Springfield, Massachusetts. In 2012, Louis and Krysia welcomed their daughter, Kahlo, into the world.
Louis is currently living in western Massachusetts, and works as an associate minister at South Congregational Church. He also serves as the Senior Program Developer for Transfaith, while completing his Master's degree in Pastoral Studies. Louis spends the majority of his time connecting with and growing relationships within community. Identifying openly as a pansexual, non-monogamous man of trans experience and faith, he attempts to make and hold space for those who are often marginalized. You can learn more about his work here.
Louis says his life has been full—and filled—with wonder and awe. For inspiring, motivating and encouraging him in his journey, he credits his recovery; his reintroduction to church by his former pastor, Bishop Yvette Flunder; the incredible love and support from his mother; the partnership of his kin and co-parent, Krysia; his empowering "anchors," Almah LaVon Rice and Chris Paige; and the many members of his amazing "adopted" family.
We thank Louis J. Mitchell for his wonderful contributions to activism, the church, social justice, and the LGBTQ community.