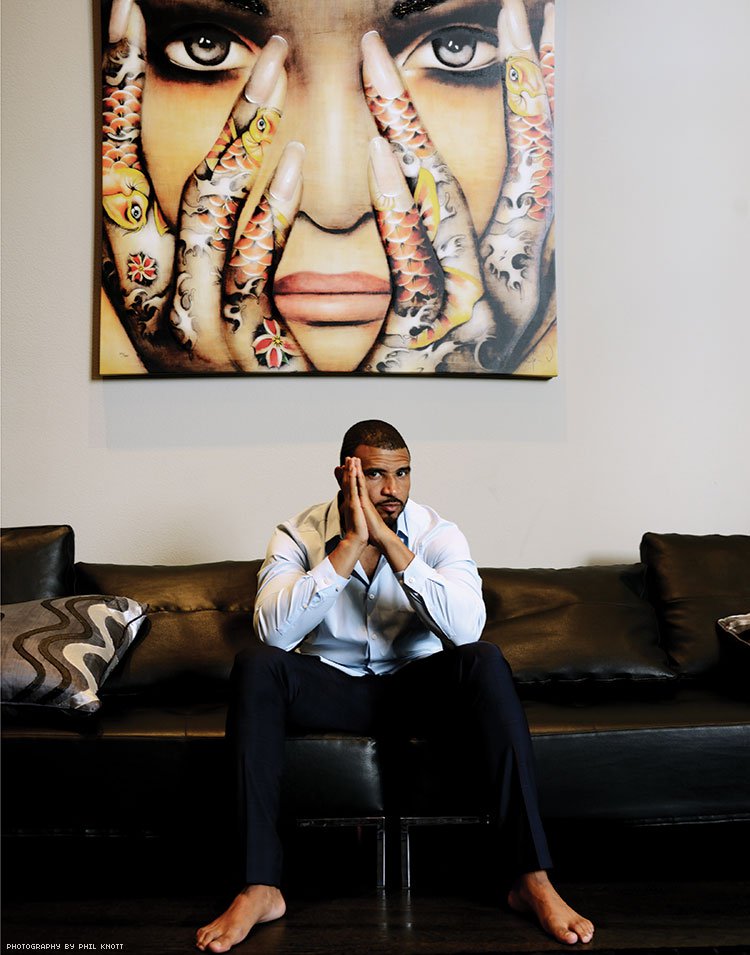 DeMarco Majors
Photo: Phil Knott
DeMarco Majors was born on September 6, 1977. He is an actor, model, personal trainer, and television host. As a professional basketball star, Majors was the first active male player to come out as gay.
DeMarco Majors was born in Evansville, Indiana, where he grew up in poverty with his mother and two sisters. For Majors, basketball was his escape—even though he started out playing soccer in school. "Growing up Black in Indiana in the '80s—that wasn't a great thing for me," he told "Plus" magazine. "You grow up poor but you don't know any better. You pick up a basketball because that's what people tell you you have to do. I didn't play basketball because I was a good basketball player. I picked up a basketball because it was the only way that I felt safe and that no one was gonna hurt me."
In an interview with "Bleu," Majors talked more about the power of athletics in coping with life's everyday challenges. "Some people pray, some people mediate, some people write in their journals, some of us pick up a basketball and go to the basketball court because there's a family, there's a kinship, there's camaraderie. Your family may not be great at home but you can always take up four [or five] other guys, get on the other basketball court together, cheer, slap hands, hug, encourage, lose together, win together and form a bonding friendship. That was always my sanctuary. It's my place of mediation, where I can be myself or be out of myself. It's my home."
After graduating from Evansville Central High School, Majors moved to California and attended Menlo College in Atherton, where he served as the basketball team campus minister, and graduated with a BA in Psychology. It was during college that his basketball skills really flourished—earning him the nickname of Helicopter for a particular slam dunk he could perform. In his senior year, Majors took up professional basketball in Argentina, and eventually played in Australia, Brazil, and with the American Basketball Association in Hawaii. After publicly declaring his sexuality, Majors was one of the few openly gay basketball players in the world. In 2008, he was named one of the top 100 most influential gay men and women by "Out" magazine.
"I never came out of anything," Majors told GBM News. "If you are accepting of yourself, you share it with other people." Some of his teammates weren't as accepting, however. "People began to back away from me," he recalled.
Following pro basketball, Majors starred in the 2008 Logo reality TV series, "Shirts & Skins," in which he led his basketball team, the San Francisco Rockdogs, to the gold medal at the Gay Games. A self-described loner and "ugly duckling" as a boy, Majors became a model, walking the runway during New York City's Fashion week, and being featured in a national Walmart ad campaign for athletic wear.
Modeling turned into acting, and Majors has appeared in "Law & Order," "Blue Bloods," Beyoncé's "Freakum Dress" video, the indie film "Hello, My Name is Trouble," the web series "Hustling," "Boystown," and "Candy Shop," and the off-Broadway productions of JL King's "RAW," and James Earl Hardy's "B-Boy Blues," among others. He wrote, directed, and stars in the forthcoming film, "7," and hosted his own talk show, "L.Y.T.E." (Living Your Truth on Embrace).
In a 2017 interview published in "Plus" magazine, Majors revealed publicly that he was living with HIV, which he contracted after being drugged and sexually assaulted.
"The shame comes from not just being raped. I developed an addiction. I lived in a cycle of depression and anxiety and fear and paranoia and hurt and regret for years. I didn't know how to break it," Majors said. "Most men of color, we just don't deal with being HIV-positive. We [have to] deal with our peers, our church, our society—and everyone who reads this will be like, 'Don't we all?' You may not be able to understand what it's like to be black and gay in America. But I know what it's like to be white in America. I've had to adapt. I've had to learn to speak a certain way. I've had to educate myself a certain way."
Despite challenges with HIV, addiction, dyslexia, depression, and his past, Majors is committed to a life of physical and mental health.
Majors lives in New York City, where he enjoys people-watching, cooking, technology, and being with his friends and family.
We thank DeMarco Majors for his contributions to basketball and the arts, and for his tireless support of our community.